Recently, my Smartphone decided life was far too easy and that it should add some excitement by requiring a system reboot. Granted, regular backups and Google accounts made comparatively short work of getting all of the data and apps back on the phone, but the process served as a good excuse to engage in a little app-pruning exercise. Simply put, the process was eye opening.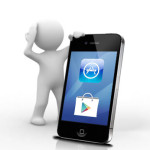 More than half of the apps didn't even make it back onto the phone because for one reason or another they simply weren't that valuable and all of the performing arts oriented platform specific apps didn't make the cut. Sure, some were interesting, but they were rarely used and the reality is an increasing number of web apps have supplanted traditional platforms specific apps because they provide a superior user experience.
Granted, most orchestras have yet to catch on to the fact that websites designed around responsive design standards is where the desktop, tablet, and mobile online shopping and content focus experience is headed. But the good news is they can play catch-up in very short order.
The timing of this was interesting in that it brought to mind a passage from a recent article at SmashingMagazine.com by fellow Chicagoan Derek Nelson that examines good and bad design within the mobile checkout process.
By a landslide, users prefer mobile websites to apps for shopping. For every shopping activity, including researching products and prices, reviewing products, participating in promotions, and purchasing, most respondents (61 to 81%) preferred using a browser to a native app.

In the days and months to come, it will become increasingly important for retailers to fuel this growth by creating seamless, user-friendly checkout processes that inspire trust and that make full use of all of the advantages the medium has to offer.
Given the platform specific app craze over the past few years within the orchestra field, this should come as a wakeup call that web apps are a routinely better option for performing arts groups whether the purpose is providing content and interaction or the actual shopping cart and checkout process. Nelson goes on to drive the point home in a piercing conclusion (emphasis added).
At long last, the promise of m-commerce is starting to be fulfilled. Never before has the gap between a good and bad mobile checkout experience affected revenue so much.
I can't recommend enough how important it is for anyone in the marketing, box office, or executive department to read Nelson's entire piece; it provides a wealth of easy to understand side by side examples of good and bad mobile checkout designs. And when you do, have your own organization's shopping cart open in your Smartphone and be prepared to ask yourself the big question: "Would our shopping cart be a thumbs up or thumbs down example in Nelson's article?"
In the end, if your group currently has an app, you might find yourself questioning the need for it; if not, then you're inadvertently one step ahead of the game by placing yourself in a good position to explore responsive design strategies for your next redesign (more on that topic here).
On a related note, Marc van Bree has some excellent insight on all of this from a hyper focused performing arts org perspective in an article title Why performing arts organizations are not app-ropriate.