Joe Patti published a fascinating post on 12/2/213 at Butts In The Seats titled Thanks For The Virtual Relationship which examines an experiment Patti conducted on whether or not relationships outside the traditional face-to-face workplace structure can influence something as fundamental as finding employment.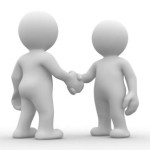 Setting aside my unconscious role in Patti's experiment, he acknowledges some genuinely useful points about the evolving nature of professional relationships.
Do you really want to hire someone who values interactions and creative content that are generated virtually for a job that is so much about the physical experience? […]

I have interacted with Drew and others so frequently and so regularly it is difficult to remember or even believe that we have only met physically for two hours.

To some degree, the situation was almost akin to the blind auditions orchestras hold. My value was being discussed based largely on the quality of my work for the benefit of the project and not colored by office politics, personal affiliations or the size of the tip I leave when we go to lunch.
He extrapolates these observations and applies those to larger issues such a performing arts org balancing the value between live and virtual event experiences.
One thing I take from this is that while the opportunity to view performances online can undermine the value of live attendance in people's minds, this experience has shown me that it is possible to develop a seemingly deep relationship with them as well. […]

I won't argue that it isn't a shallow, illusory relationship which may crumble quickly upon contact with the real life situation. But I think half the barriers to participation audiences encounter are mental and anything that removes or diminishes those perceptions and makes people feel as if they have the ease of a longstanding relationship with you is helpful.
In the end, the balance between assigning value to live and virtual relationships is something that must be constantly balanced and reassessed. When applied to mission driven activity, focus on one should never be at the expense of the other but when applied to individual relationships, it's all up for grabs.