Byte for byte, you can't beat You've Cott Mail for arts news. It's a one-two punch of good old fashioned email newsletter and an active Twitter feed that provides a steady stream of theme oriented mailings and topical tweets. Artfully directed by the archetypical arts news hound, not to mention Senior Director of Marketing and Creative Content for Alvin Ailey American Dance Theater (and three-day-beard aficionado), Thomas Cott, it should be at the tippy top of your arts news consumption habits.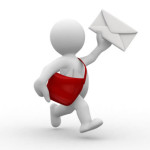 Don't miss out because you were inadvertently sucked into thinking email newsletters are out of style. Quite the contrary, they're stronger than ever and You've Cott Mail is a perfect example by regularly pulling contributions published across a terrific landscape of culture outlets with same day relevancy alongside chestnuts from weeks prior. It's simple, reliable, and inclusive. What more could you want?
Since Cott doesn't maintain a virtual tip jar, I will make a donation to a nonprofit organization of his choice. If you have somehow missed out on all of the You've Cott Mail goodness over the years, you're in luck as Thomas maintains an email campaign archive.
As an aside, for those who appreciate geeky thoughtfulness, you'll be thankful that Cott distributes his newsletter via
MailChimp
using a super mobile friendly theme, making it that much easier to stay connected on your own terms. It's the same service we use right here at Adaptistration for our
weekly e-mail summary
and I can't recommend it enough.
What Is The Giving Program?
The brainchild of Shoshana Fanizza from Audience Development Specialists (ADS), the Giving Program is a way to acknowledge those within the culture blogging community that I believe make a difference. I'll be posting something each moth featuring the latest Giving Program target, although for obvious conflict of interest reasons, I'll have to exclude what would otherwise be my shortlist of authors at Inside The Arts (plus I'm pretty sure they already know I love them).
I hope everyone considers giving the program a try; all you have to do is follow Fanizza's four point guideline:
I will keep track of the blogs and other free information sites that I have come to rely on.
Every month I will decide on a person to donate or contribute.
I am making sure to value the people that are making a difference and showing them my appreciation with this gift.
I am making note of what happens to me during this program.
[ilink url="https://adaptistration.com/blog/category/giving-program/"]Visit The Giving Program Archive[/ilink]