Although specific details have yet to be released, media reports have confirmed the new master agreement ratified by the Minnesota Orchestra Association (MOA) and its musicians contains a provision to pay substitute musicians 90 percent of the contracted musicians' base scale rate, thereby requiring subs to shoulder a disproportionately larger share of salary concessions than their contracted colleagues.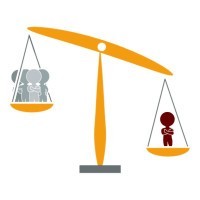 There has been a great deal of conversation here and throughout social media channels on the subject; much of it focusing on potential motivations from both employer and employee perspectives and to date, neither stakeholder has addressed the issue in a public statement. Consequently, we do not have answers to the three fundamental questions surrounding the issue that would make much of the ongoing conjecture moot:
Was the need for a pay disparity between contract and substitute musician base rates a deal-breaker for the MOA regardless of other terms?
Did the musicians have a deal-breaker base salary minimum, even if it meant accepting a substitute musicians pay disparity?
Once the final concessions were defined, did either stakeholder engage in zero sum bargaining in order to reach substitute and contract musician base scale parity?
Hopefully, the answers to those questions will appear at some point in the near future but what remains are final terms that require substitute musicians to accept less pay for work that requires equal artistic expectations with contract musicians.
And based on the conversations I've had with Minnesota Orchestra musicians and regular substitutes, this is about as far from a palatable outcome as either group desires. Perhaps unsurprisingly, everyone I've spoken with is reticent to express his/her views publicly; it is, for lack of a better description, a hot mess of balancing perceived intent, conflicted self interest, and overall institutional good.
Fortunately, there is a straightforward way to move forward that provides parity regardless of what happened during negotiations that produced the resulting pay discrepancy.
The Solution: A Disparity Mitigation Fund
Simply put, there is nothing preventing contracted musicians from contributing to a fund that will be used to mitigate the pay disparity until such time that is no longer exists.
Collections should be voluntary; this will account for any unusual situations of financial distress along with providing a way for those who may be opposed to the idea to decline participation. Only those who see value in the benefits resulting from shared risk need participate.
Fund payments can be distributed via a schedule that contributes to an efficient process related to collecting and processing necessary substitute/extra musician data and fund contributions from contracted musicians.
The data needed to figure out how much each contracted musician needs to contribute for any given concert set is straightforward and there is a trio of options regarding how the disparity mitigation funds can be distributed.
Data Source Option #1 – Via Employer
The MOA already maintains detailed records of how many substitute/extra musicians are used and how many services they are paid during a given payroll period. As such, the employer can provide this information to the musicians who can, in turn, use it to distribute funds via one of the two following options or even ask the employer to distribute it to the substitutes via the existing payroll architecture.
Data Source Option #2 – Via Local
Since Minnesota is not a right-to-work state most, if not all, substitute and extra musicians will need to be members of the American Federation of Musicians (AFM). As such, the Local will have on file, or can easily obtain, contact information for each substitute/extra musician.
Necessary data on how much needs to be collected and distributed is obtainable from the employer if not already available in work dues reports that are part of the regular validation and payment information exchanged between the employer and the Local.
The Local should be capable of accepting mitigation fund contributions and all necessary work hours and communication needs should not exceed existing capacity.
Data Source Option #3 – Directly
In light of the decision to form their own nonprofit organization, the musicians have the already laid the necessary foundation for collecting and distributing funds. The trick will be working out a way to verify substitute/extra musician service counts but that shouldn't be a showstopper.
Another critical requirement is one or more musicians will need to step up and assume a volunteer leadership position to shoulder the logistics and get the ball rolling.
A Little From Column A, And A Little From Column B…
It is entirely conceivable that a final process could include elements from all three options but the crucial point to remember here is there is no good reason why this can't work from day one. The more everyone works together, the better it will be for the entire organization.
Final Thoughts And An Offer
In the end, there is no good reason why this idea shouldn't come to pass.
Take a moment to let that sink in.
But even though there's nothing standing in the way, that doesn't mean it isn't a choice and right now, the Minnesota Orchestra musicians, Local 30-73, and the respective substitute/extra musicians need to find a way to make these decisions and turn the Disparity Mitigation Fund into a reality.
Time is not a luxury at this point; sadly, a system such as this only becomes more difficult to develop after the season begins and in an ideal scenario, Local 30-73 (or a group of committed contracted musicians) will hold one or more meetings with involved parties in order to discuss options and determine the best way forward.
Certainly, it is one thing to tell other people what they should do with their time and money and quite another to put some skin in the game. As such, I'm willing to put my money where my mouth is and offer my professional services with related strategic planning, guidance, and infrastructure support over a sustained period of time free of charge to any involved party. I'll also donate my expertise for the purpose of moderating any internal discussions and/or meetings.
From a broader perspective, this solution is available to any orchestra that currently maintains pay disparity between contract and substitute musicians and I genuinely hope all of them will consider this solution for their respective institution. But the Musicians of the Minnesota Orchestra are in a unique position to be genuine leaders among their peers by emerging from what is arguably the most devastating work stoppage the field has witnessed and taking matters in their own hands by deciding whether or not they place their faith in the dynamic benefits of collective identity and shared sacrifice, regardless of what ended up in the final agreement.
All of the control and all of the power is at their fingertips. All they need to do is reach out and take it. Yes, it is just that simple.