Granted, regular readers have heard me raise alarms over the impending demise of net neutrality and the negative impact that will have on the entire field but compared to other topics, the degree of engagement is, shall we say, unenthusiastic. That's okay, it can seem like a dry and overly geeky topic; fortunately, creative types like John Oliver and his writing team at HBO's Last Week Tonight with John Oliver not only know how to get your attention, but can inspire action.
The 13:17 segment was broadcast on 6/1/2014 and is available online at YouTube. Do yourself a favor and watch the entire thing (slightly NSFW content).
In addition to what Oliver suggests vis-à-vis submitting comments at
fcc.gov/comments
you should
contact your representatives
and insist that they do everything in their power to prevent the FCC from destroying Net Neutrality by reclassifying broadband as a telecommunication service.
You can also contact FCC commissioners directly (h/t act.freepress.net):
FCC Chairman Tom Wheeler*: 1-202-418-1000
FCC Commissioner Mignon Clyburn: 1-202-418-2100
FCC Commissioner Michael O'Rielly: 1-202-418-2300
FCC Commissioner Ajit Pai: 1-202-418-2000
FCC Commissioner Jessica Rosenworcel: 1-202-418-2400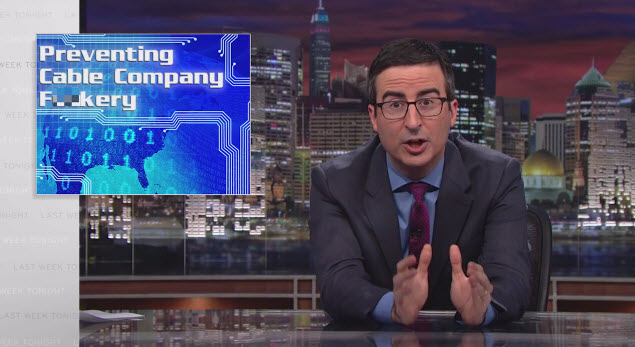 Here's a sample script for you to use:


I'm calling to urge the FCC to scrap its plan to allow Internet service providers to charge for preferential treatment.

These rules would destroy Net Neutrality. I urge the commission to throw them out and instead reclassify broadband as a telecommunications service. This is the only way to restore real Net Neutrality.
Want even more options? Stop by savetheinternet.com/what-can-i-do and see what strikes your fancy.
* Chairman Wheeler was a paid lobbyist in charge of lobbying efforts for cable providers; the very same businesses set to benefit from destroying net neutrality. This clear conflict of interest is what Oliver was referencing when he used the phrase "The Equivalent Of Needing a Babysitter And Hiring A Dingo."