The 6/16/2014 edition of Chronicle of Philanthropy published an article by Susanne Perry (h/t @RCiprotti) that reports a lawsuit designed to require the Internal Revenue Service (IRS) to make nonprofit tax returns (Form 990) available via open data standards; meaning, the IRs would have to provide the data in a database friendly, searchable standard rather than the current system of converting to PDF.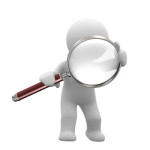 Regular readers already know that open data standards are a topic near and dear here at Adaptistration; so much so, that we launched a program designed to implement what the lawsuit is attempting to accomplish: convert orchestra 990s into a search database format and make the data free and open to all.
We'll definitely keep an eye on what happens via the lawsuit, which the IRS has asked San Francisco Federal judge William H. Orrick to dismiss because it would be too difficult to remove confidential donor information via open data standards.
Given the enormous amount of time the IRS already spends on removing that information then converting it to the nearly useless PDF format, this rationale is nothing short of complete nonsense. At the very worst, the process would require the same amount of time and resources.
However, the IRS's motion to dismiss includes an additional position that relies on the highly effective tactic of nebulous legislative language. Fans of public administration (otherwise known as bureaucracy) know that the most effective way to kill the intent of a law is to get the final wording as vague as possible. In this instance, the IRS motion to dismiss also states that the current laws requiring 990s to be made available in an electronic format do not stipulate any specific type of format.
And speaking of the art of public administration, even if the lawsuit is successful and survives the almost certain appeal process, there's still a mountain of red tape regarding time lines for implementation, related budget triggers, and accessibility standards not to mention whether or not any of this would apply retroactively.
In short, don't hold your breath to see what happens but at the same time this is the best option yet to finally move toward a real open data solution for nonprofit transparency.
In addition to the article, philanthropy.com published a wonderful 2:15 companion video that breaks down the entire situation and why this lawsuit is important (my apologies to iOS users but philanthropy.com's video is in Flash so it won't work on your device).