On June 20, 2014, Michele Bachmann declared that John Adams' opera, The Death of Klinghoffer, is "a sympathetic portrayal of terrorism against the Jewish people" (h/t @SoundNotion). Bachmann attempts to portray the Met, and by extension all arts and culture organizations in America, as a champion of anti-Semitism but it is clear that she's doing nothing more than hijacking this topic as fodder for her lowest common denominator realpolitik gibberish.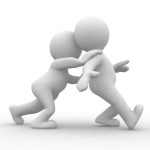 In the end, the Met has have no one to blame but themselves; they attempted to divine a solution that pleases everyone but only ended up in the middle with no one liking them. I'm not certain which is more infuriating; seeing Culture War rhetoric reemerge within the worst ranks of political ideologues or that one of the cornerstone institutions of US culture put itself in a position to let it happen.
Hopefully, The Met managed to parlay their decision to cancel the Klinghoffer broadcasts into a sizable quid pro quo return; after all, if you're going to sell your soul, you might as well do it for top dollar.
Here's Bachmann shamelessly parading her ignorance for personal gain (skip ahead to the 10:34 mark). I'd respond to her remarks at greater length but I'm going to take Mark Twain's advice to heart and refrain from arguing with an idiot, because she'll only drag me down to her level and beat me with experience.
http://youtu.be/FeQU6hNYVRg?t=10m33s