The Wall Street Journal (WSJ) published an article by Nancy Henderson, Best Places to Retire: Chattanooga Blends Culture and the Outdoors, on 11/29/2015 that reports the best city in the US to retire is Chattanooga, TN; but the real story, for the orchestra field at least, is how much influence cultural offerings contributed to that conclusion.
The article begins with excerpts from an interview with retired Metropolitan Opera Orchestra musician Douglas Hedwig and winds through a list of items he and his wife, Mimi, were looking for when identifying a city to retire. To that end, the Hedwig's listed a quality orchestra along with a handful of additional key must-haves.
Like many retirees, the Hedwigs moved here to be closer to family. But that wasn't the only draw. Mr. Hedwig, 64, a retired Brooklyn College music professor and trumpet player for the Metropolitan Opera orchestra, and Ms. Hedwig, a former book and magazine editor, wanted a city with a quality orchestra, an "intellectual, artistic and creative" university environment and, for good measure, a minor-league baseball team.

Chattanooga, as it turned out, offered all three.

[…]

Like the Hedwigs, many Chattanooga transplants see the city's thriving cultural scene as a major draw, with an art museum, symphony, ballet company and theater center funded in part by private foundations that also support creative startups, public sculpture exhibitions and summer music festivals like Riverbend and the free weekly Nightfall concerts.
This is terrific news for not only The Chattanooga Symphony & Opera (CSO)* and the city's additional cultural institutions, but it's good for the field as a whole in that a major traditional news outlet managed to identify and include cultural offerings as a high value item when courting retirees.
With the number of 65-and-older citizens growing to 46.2 million in 2014 and comprising one of the largest generations in the past century (they easily outnumber GenXers and are only a bit smaller than Millennials), their demographic is becoming an increasingly influential variable in determining the fate of professional orchestras outside of traditional metropolitan areas.
Disrupting The Status Quo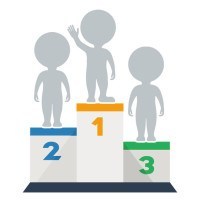 An influx of culturally minded Baby Boomers is an orchestra marketer's happy place but they can be a sword that cuts both directions thanks to a higher than average level of discernment for artistic excellence and institutional integrity.
Provided orchestras in cities that become popular with the culturally inclined retiree demographic can consistently deliver a worthwhile artistic experience while simultaneously avoiding the sort of public ugliness that has become alarmingly routine during labor disputes, they are in a unique position to stand out among their peers.
To that end, it will be interesting to see how the field responds to the WSJ article.
For the most part, it tends gloss over matters related to what is traditionally defined as regional orchestras in favor of delivering larger budget groups as the haute couture of administrative and governance best practice.
But all of that could change in short order if retiring Baby Boomers gravitate toward and demand high quality cultural offerings as a deciding factor in determining premier retirement locations.
Are cities like Chattanooga going to see their orchestras grow into 52 week dreadnaughts? No, and they shouldn't even attempt to replicate those models.
Instead, they'll be far better off by fueling growth, stability, and appeal by disrupting the traditional larger budget = more important job standard with the sort of material included in the WSJ article. Imagine a labor market where the basis for attracting administrative, board, and artistic talent along with assigning status isn't merely shackled to budget size and instead, follows the audience.
Granted, it's uncharted territory but the rewards for being a pioneer are great. Using Chattanooga as an example, imagine the orchestra having a greater gravitational force over hiring musicians and staff over its far larger budget peer in Atlanta. Sure, the resident ensemble in the former city has far more money at its disposal, it also has a history of dysfunction and ugliness.
Consequently, a combination of narrowing the dollar-to-dollar pay gap, providing superior levels of workplace satisfaction, and using the cyclical energy of artistic excellence and full halls to fuel institutional excitement, can create an entirely new competitive dynamic between these types of traditional institutions.
Legacy Lessons To Learn
For those with a few decades or more experience in this field, it is worth noting that this retiree trend isn't exactly unique.
When the equally culture-steeped Silent Generation began flocking to Florida and the Southwest for retirement, there was hope that their patronage would follow and to a certain degree it did. They purchased tickets and helped inspire demand for higher quality productions in cities that were popular retirement centers that straddled the transition between the 20th and 21st centuries.
But as that generation started to fade from being active ticket buyers, cultural institutions began to discover that they weren't converting those patrons into the sort of crucial legacy gifts that help transform a successful annual fund driven organization into a strategic funded group with endowments that are three or more times the size of the annual budget. Instead, those gifts continued to be funneled toward institutions from the retiree's previous home city.
Moving forward, it's good to see that culture continues to serve as a vital criterion in shaping US retirement centers but the new challenge for cultural institutions is to avoid the mistakes of their peers in cities favored by Silent Generation retirees by pulling Baby Boomers into the fold as genuine stakeholders and, ultimately, legacy donors.
 Full disclaimer mode: although the CSO is a
client of mine
 I played no role in the development of WJS article.