Traditionally, one of the most common methods to help determine a political candidate's views on arts and culture is to examine his/her proposed Arts and Culture policy along with the individuals appointed as official advisors. But there's another obvious benchmark that often gets overlooked: how candidates treat artists and their work when campaigning.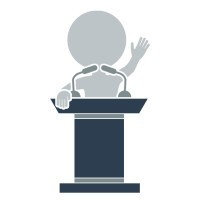 Simply put, if a candidate values artists and the work they create, they should have no trouble leading by example and obtaining all related permissions and licenses prior to using those works for promoting their candidacy.
One of the most commonly used art forms during campaigns is music and to that end, the American Society of Composers, Authors, and Publishers (ASCAP) provides a very clear set of guidelines for using music in political campaigns. They even provide an easy-to-find FAQ document on that very topic.
The current US presidential campaign has attracted attention to this subject thanks to a parade of musical artists expressing intense public dismay over Republican presidential candidate Donald Trump using their music and/or recordings for his campaign. It's a very long list of very angry artists, a quick Google search will produce no shortage of resources but one that stands out is an article by Justin Carissimo from the 7/23/2016 edition of The Independent.
Everyone from metal heads like Dee Snider (Twisted Sister) through the estate of deceased tenor Luciano Pavarotti are none too pleased.
So yes, official arts and culture policies and the advisors selected to help author them are important, but don't overlook a candidate's actions during his/her campaign.
After all, Mark Twain once said "action speaks louder than words…but not nearly as often" and presidential campaigns only come around once every four years so don't miss your chance.
In the meantime, enjoy this segment from the 7/24/2016 episode of Last Week with John Oliver which does a terrific job examining the topic.