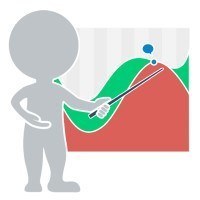 Thanks to everyone who took the time to participate in last week's poll asking readers to weigh-in on whether or not they thought certain types of artistic activity could help or hurt a conductor's prospects at landing a music director position at a professional US orchestra.
There were just under 300 respondents and the results were fascinating. If nothing else, they indicate the potential value in studying this issue in a far more scientific fashion.
Beyond measuring possible predisposition toward one artistic activity over another, it could codify the need for a larger public perception effort. For instance, it would be fascinating to discover if any of these activities have bearing on selecting a music director in the first place and if so, is there any evidence to correlate success among current music directors and stakeholder predisposition.
You could also examine existing music directors hired within the last 10, 20, or 30 years and cross tabulate their artistic activities with research data to see if what individuals perceive as influential elements match what actually happens.
But for now, here are the poll results.
Holding an adjunct or tenure track academic position at…
[chart id="22″]
Composing, primarily…
[chart id="23″]
Actively performing as a classical…
[chart id="24″]
Moving Forward
Although it shouldn't be excepted that an orchestra could Moneyball its way into selecting a successful music director, it would be fascinating to discover if there are any genuinely quantifiable artistic activities successful music directors have in common.
What's more, increasing public awareness and discussion on whether or not those activities should matter in the first place is another fascinating angle.
More than two decades' experience makes me wary that increased study could be used to make an artificially negative environment worse. Having said that, if the process remains transparent and open to peer review and public examination, then it could have just as much potential to produce something positive.
I'm curious to know what you think. I encourage everyone to take a moment to share your thoughts and observation in the comments and/or use the poll results to start a discussion at your social media profile.