Hot off the heels of his Women Composer Database Project, composer and arts administrator Rob Deemer has been pouring through much of the recently released programming data for the 2017/18 season to see how often US orchestras are programming works from composers who aren't dead, white, or male.
I have been concerned for years about how narrow orchestral programming has been, especially in the professional arena," said Deemer. "Inspired by Brian Lauritzen's postings on Twitter about representation of living composers and women composers in the 2017-2018 season announcements of major American orchestras over the last few weeks, I decided to do some data mining of my own. The initial result is a useful spreadsheet that allows for programmatic comparisons between living vs. dead composers, male vs. female composers, and white vs. non-white composers for 45 major orchestras in the United States."
Deemer began plugging data into spreadsheets and perhaps unsurprisingly, things continue to look great for programming music composed by dead-white-guys (DWG).
According to Deemer's data, the Utah Symphony & Opera occupies one extreme of the DWG scale. 98 percent of composers in their 2017/18 season are deceased while 100 percent are male and white.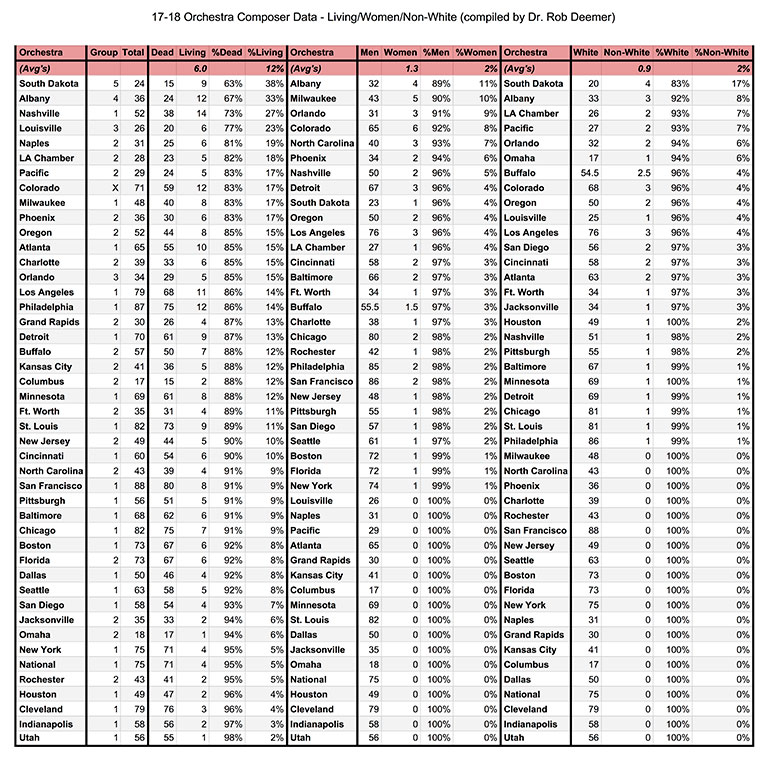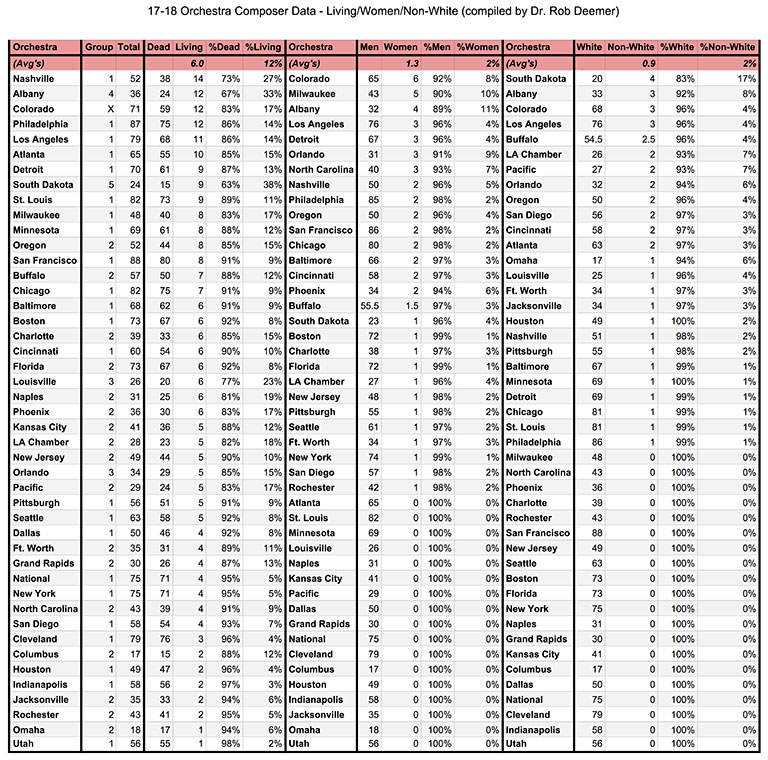 On the other wise of that coin, South Dakota Symphony and Albany Symphony both programmed at least 1/3 of their season with works from living composers. The Nashville Symphony and Louisville Orchestra managed to break the 20 percent threshold.
Milwaukee Symphony is the only larger budget ensemble to program at least 10 percent or more works from women composers while no large budget groups broke the five percent threshold.
For minority composers, the ratios drop even lower. Nearly half of the 45 orchestras in Deemer's figures have zero music from non-white composers. Zero. The figure is slightly lower for women composers.
One of the difficulties in performing a field-wide analysis is raw numbers tend to be deceiving, especially when the number of concerts offered differs to such a large degree between high to lower budget orchestras. Deemer made sure to take this into consideration when cross tabulating the data.
"While comparing hard numbers of how many of this type or that type of composer is represented can be useful, I feel that looking at the ratio of works by one cohort compared to the total number of works programmed gives us a way to view many different orchestras through a similar lens and discover who has a balanced programming concept and who does not, said Deemer. "For example, while the South Dakota Symphony is programming slightly less living composers (9) than Atlanta (10), Los Angeles (11), and Philadelphia (12), the fact that their much smaller season gives that number much more weight (38%) than Atlanta (15%), Los Angeles (14%), or Philadelphia (14%).

The average percentage of works by living composers from all 45 programs is only 12%. However, out of 319 total composers programmed, 145 are still living. This means that while dead composers comprise 55% of the total number of composers programmed, they represent 88% of the total number of works programmed. The 33% window between the two represents, in my opinion, a good amount of space for orchestras to expand their programming without jettisoning more traditional repertoire; in the coming weeks, I hope to come up with a feasible window that orchestras could use to find a feasible balance between old & new in their programming."
Taking Stock
According to the data gathered to-date by Deemer, groups dipping into the terrible twofer range (zero works from women or non-white composers) include: Boston Symphony (see update), Cleveland Orchestra, Columbus Symphony, Dallas Symphony, Grand Rapids Symphony, Indianapolis Symphony, Kansas City Symphony, Naples Philharmonic, and Utah Symphony & Opera.
When asked about how he hopes this data will impact future programming decisions, Deemer did not shy away from some of the more discouraging early results. At the same time, he juxtaposed this reality with genuine positivity.
"The numbers for women composers and non-white composers are even more concerning," said Deemer. "The average of 2% for both groups in orchestral programming should be a wake-up call for all orchestral organizations, especially as they increase their community engagement efforts in their own communities. As orchestras increase the number of living composers in their programming, however, that should allow them to also increase the programming of these groups as well. I hope to have more granular analysis in the weeks to come, but I sincerely hope this data will help orchestras around the country to begin to explore the vast riches of orchestral literature that, up to this point, has not yet been tapped.​"
For example, if an award existed for excellence in programming DWG music, it would likely be won by the Utah Symphony & Opera, with 98 percent of composers being deceased and 100 percent are male and white.
Update 4/4/2017: since the article was published, it has garnered a good bit of attention. Since Deemer's initial data included a sampling of professional US orchestras, some outside of the list have been using social media to point out efforts on their part to increase the amount of works from living, women, and minority composers.
.@robdeemer Please consider adding @CAsymphony to your chart. Group 5, 16 composers, 25% living, commission and premiere by female.

— Aubrey Bergauer (@AubreyBergauer) April 3, 2017
Thank You!!!

— Aubrey Bergauer (@AubreyBergauer) April 3, 2017
Likewise, Deemer has been updating his data to include new information and errata. To that end, he sent along the latest revision to his charts (above) and offered the following addendum:
After being alerted to the fact that I had missed the fact that Boston is performing a work by a woman composer (Arlene Sierra) next year, I double-checked my entire spreadsheet again and have updated the numbers. The images posted now correctly reflect my tally of the program announcements for next year for all 45 orchestras – Mea Culpa. – Rob Deemer