It is official: the Music of Star Trek podcast 30-day Kickstarter campaign is up and running and we need your help to make everything possible.
I am all kinds of excited to finally be able to reveal the details we've been sitting on for the past month, not the least of which are the rewards.
The pilot episode turned out to be a real hit, but it was the response to that show from listeners that really blew us away. It was clear we needed to find a way to turn this into an ongoing podcast. The first step in that process was figuring out what it would take to do this the right way.
Where The Money Will Go
Our initial goal of $3,000 will help offset several key expenses, the largest of which is licensing which we need in order to include excerpts and full clips during each episode.
Case in point, when you listen to the promotional video, the background music isn't related to Star Trek at all. It's a royalty free clip of music inspired by Star Trek. And let's face it, a podcast about the music of Star Trek that didn't actually include the music is all kinds f***ed up.
Paying for a license means we're supporting the composers, musicians, audio engineers, and cast of related professionals that make the music possible. Simply put, supporting those artists will always be one of our paramount goals.
The remaining funds will cover all the unsexy yet oh-so-necessary stuff like post production engineering, a reliable show recording platform, web hosting, etc.
Now that we have that out of the way, let's talk about the fun stuff.
Here's a teaser video that provides the highlights:
while the full promotional video includes all of info about what we're raising funds to do, why we care about it, how we plan to make it happen, and who you we are.
Let's Talk Rewards!
You can forget stereotypical merch. We're all about providing something you can really use and wouldn't be able to get anywhere else.
Since the podcast will use a subscription driven format with free and member-only bonus content, the junior officer reward levels offer discounted trial and on-air shout-outs.
As you move up the ranks, rewards become cumulative and we'll highlight your added generosity with a full annual membership and provide a way to deliver your very own 2-min Priority 1 message to podcast listeners. It's the perfect way to get something personal off your chest or to promote a commercial endeavor.
Finally, things get crazy awesome at the senior officer levels.
We have two options, both of which have very limited availability: you can be a member of the gang as a guest panelist for one episode or get a backstage tour of The Met.
For those opting into the guest panelist slot, you'll get to select which episode to join the fun. Those opting for the backstage tour will enjoy your guided tour conducted by our very own science officer, Jason Haaheim (you can bet additional podcast crew members will join the fun if scheduling permits).
The tour includes, but is not limited to, capturing video of you onstage. Imagine singing arias from some of Worf's favorite Klingon operas like "Aktuh and Maylota," "Gav'ot toH'va," and "Shevok'tah gish." Seriously, this is a thing. And you never know who else may show up for the tour.
I dare you to find rewards that deliver similar experiences.
Stretch Goals
While the initial $3,000 is the real must-have amount to get things up and running, we have all sorts of fun and games planned.
If we reach the $6,000 mark:
Special guests including, but not limited to, the actual composers and LA studio musicians who recorded the soundtracks.
Mini-episodes on topics that would otherwise not make it into the series.
Regular soundtrack giveaways.
If we reach the $9,000 mark:
We'll move past films and television episodes into music from Star Trek video games, fan projects, and more.
We'll branch out into additional Sci-Fi genre programming with no less than three pilots focusing on the music of: Star Wars, Lord of the Rings, and one fan driven topic. More
Fun fact: one of our panelists, Bill Eddins, does research at the Tolkien Institute so you know he'll be crazy entertaining with a LoT/Hobbit series. 
Hire additional production staff to accommodate the increased production schedule.
If we go over $9,000:
All content will be free to access: no member paywall! Anyone selecting a membership driven award will receive a suitable reward upgrade.
How The Series Is Structured
First, let's talk about what this podcast isn't. Although we're classical music nerds, this isn't a show where experts talk at you highlighting things like counterpoint and retrograde motion. Sure, those things are cool in an academic sense, but we aren't here to force feed yet another cringe-worthy music appreciation effort down your throat.
Now, let's talk about what this podcast is.
It's a lively, fun, open conversation that invites you to be one of the gang. There's laughing, lots of laughing.
There will be loads of knowledge bombs, but they are presented from the perspective of the hosts' own fascination and wonder at the discovery of something new within the context of Star Trek.
It's all about new perspectives, new information, and new realizations.
We'll also examine the episodes from a broader perspective, such as how they reflected events of their time, and how these elements impacted music queues that have become ingrained into our collective cultural consciousness.
We can guarantee you'll walk away from each episode learning something cool and be downright giddy to listen to these soundtracks from start to finish.
Look, we know the pilot pinballed around topics across several films and nearly every series. But moving forward, each new show will keep things far more focused.
Each episode will examine individual films or series. In cases where the soundtrack plays an integral role, we'll drill down into single episodes (think: TNG s5ep25, Inner Light).
Episodes will be approximately 60 min in length and there will be no less than one episode per month.
Each episode will be made available free of charge.
Member-only and bonus content will be available via premium subscription.
Subscriptions will run $9.99/mo for monthly billing and $8.99/mo when billed annually. Should we ever decide to sell advertisements, Premium subscribers will also enjoy ad-free listening.
The Crew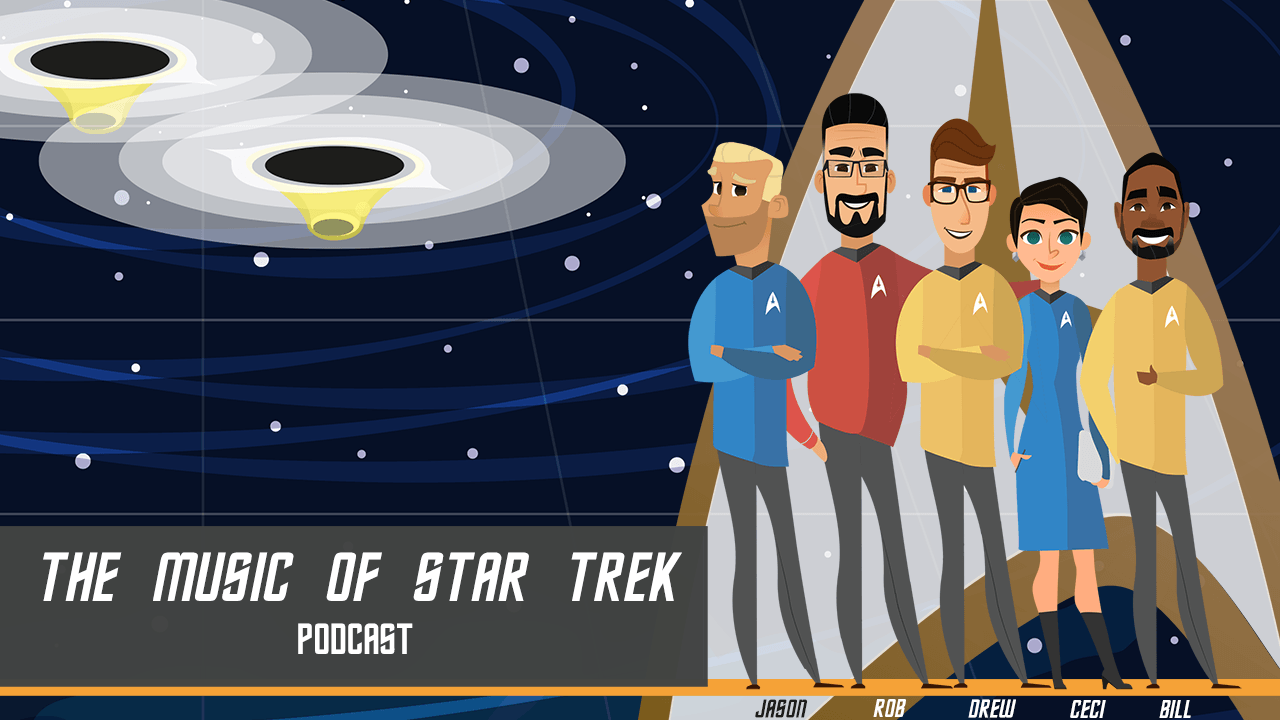 Ceci Dadisman: Panelist, arts marketer extraordinaire, and the podcast's First Officer. Ceci's most recent nonprofit position was director of communications at Palm Beach Opera and currently works as an arts marketing practitioner at FORM.
Bill "Commodore" Eddins: Panelist, conductor, pianist, and the podcast's ranking office. Bill served as music director of the Edmonton Symphony Orchestra from 2005-2017 and before that, was Associate Conductor of the Minnesota Orchestra and Resident Conductor of the Chicago Symphony Orchestra.
Jason "definitely one of the blue shirts" Haaheim: Panelist, Principal Timpanist of The Metropolitan Opera Orchestra, and podcast science officer (no joke, he's also an honest to god scientist with patents and everything!).
Rob Deemer: Panelist, composer, and Associate Professor of Music Composition, State University of New York at Fredonia. Rob is also the founder of the Music Diversity Database project. For the podcast, Rob serves as the commandant of Starfleet Academy's music division and lays down a wealth of knowledge.
…and yours truly:
Drew McManus: Producer, host, and captain of this adventure. An arts entrepreneur, Drew owns three arts related business: an arts consulting firm, a full-service web development agency specializing in performing arts organizations and artists, and an online publishing group that includes the orchestra biz blog Adaptistraiton.com, InsideTheArts.com, ArtsHacker.com, and ArtsAdminJobs.com.
How You Can Help
First and foremost, become a backer!
Spread the word. Share the project on Twitter and Facebook. If you write a blog, we would be crazy grateful if you published something about it. If you need any media resources, reach out and let me know.
Share the promotional videos. In addition to the primary share video, you can use any of the shorter teaser vids. The most important thing is to include the project page link: https://www.kickstarter.com/projects/102811620/the-music-of-star-trek-podcast
Back The Music Of Star Trek Podcast Kickstarter
The music of Star Trek is more than just commercial music, it's some of the richest, heartfelt music of our time and it merits this level of attention. With your help, we can make that happen.

Support the Music of Star Trek podcast. Thank you!