What makes a good orchestra website? The mere question can generate conversations which last for hours. Nevertheless, each orchestra will decide for themselves just how important their website activities are to the organization and how much of their resources they can allocate toward website development and maintenance…
At the core of every good orchestra website is the ability to generate revenue and create awareness in a way which is more efficient than traditional methods orchestras currently employ. The diagram to the right illustrates how an orchestra website should be constructed; a core function supported by five primary components which are delivered in an outer cover of straightforward functionality.
Although each aspect of the surrounding components (website content & services) and the outer cover (server platform, navigation structure, & aesthetic components) will be unique to each orchestra, they should never replace the core function of finding a renewable, less expensive, vehicle for selling tickets and connecting with their audience online and offline.
The Rankings
Unfortunately, orchestra websites scored a little lower this year but what a difference those few points make. The average score, 58.93 out of 100, is a failing grade, which indicates that the majority of orchestras simply aren't dedicating the time and resources needed to create an online product worth delivering.
Remember, the websites were not examined on the subjective basis of color schemes, layout, graphics, or other aesthetic qualities except in cases where those elements interfered with functionality.
Here's how they stacked up: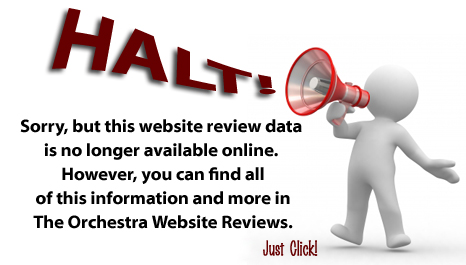 Although there are some obvious exceptions to the rule, bigger budget orchestras were inclined to do better than their smaller budget counterparts. The average ICSOM organization website scored 67.71, or a D-, whereas the average ROPA organization only scored a failing grade of 47.87.
It was more than a little discouraging to see every one of the new orchestras included in the 2005 review score below a passing grade. However, it was inspiring to see such a wide range of budget size orchestras like Honolulu, West Virginia, and Pittsburgh all make significant gains over last year, even though it would have been even better to see them break into the "B" grouping. That alone goes to show budget size doesn't really influence an orchestra's ability to implement significant improvements to their website.
Clearly, the majority of these orchestras need some professional help. Beginning Wednesday, 9/14/05, you'll be able to access greater details regarding each orchestra's score and on Thursday, 9/15/05, you'll be able to read more about specific issues, good and bad, emerging from the review.