Thanks to a steady stream of regular readers and in influx of newcomers, Adaptistration's 2007 traffic reached record-breaking levels…
Just the Facts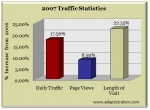 By the end of 2007, Adaptistration's archives reached 1,287 posts and 1,165 comments. Average daily traffic, page views, and length of visit all increased throughout 2007. Not only was there a 17.5 percent increase in the number of daily unique visitors but those same readers spent 22.35 percent more time reading through all Adaptistration had to offer, as illustrated in the chart to your left (click to enlarge). In addition to daily visits, those who subscribe to the Weekly Email Summary more than doubled in size.
The Only Thing Worse Than Being Talked About Is Not Being Talked About

Just as the Oscar Wilde quote dictates, the number of traditional print media publications which quote or refer to material appearing at Adaptistration steadily increased throughout 2007. On average, Adaptistration appeared in a traditional print media publication in 2007 slightly more often than it did in 2006 – about 3.3 times per month – which is a 10 percent increase. According to Technorati, Adaptistration's popularity among other bloggers nearly doubled in 2007 as its authority score increased from 53 to 98 (Technorati defines an Authority score as the number of blogs linking to a website, measured in six month intervals). According to Google, Adaptistration is even more popular as calculated recently by Scott Spiegelberg, author of Musical Perceptions. According to his research, Adaptistration is the 6th highest ranked classical music blog out of 50.
2007 Top 10

Based on incoming traffic the 10 most popular articles or series of articles, for 2007 were:
Annual Orchestra Website Reviews
Top-Tier orchestra musician salaries (here and here)
2006 Compensation Reports
San Antonio Symphony bargaining stand-off (the first article is here)
2007 Compensation Reports
"The Fragile Powerhouse"
Institutional Transparency (here and here)
The Adaptistration Cartoon Contest
All About Potential (Part 1
Part 2)
Take A Friend To Orchestra
Conclusions

Although blogging is indeed a solitary activity it simply doesn't work without input from the readers. As always, I want to extend a sincere thank you to everyone who enjoys Adaptistration and to those who think enough of it to share it with friends and colleagues.