Ever since the inaugural Orchestra Website Review in 2004, the Chicago Symphony Orchestra (CSO) has been a benchmark in orchestra website design. For the 2008 review, Chicago's website managed to retain that reputation by preserving functionality as well as introducing a number of new media elements geared toward broadening user experiences…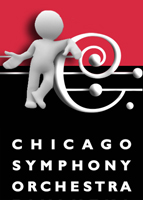 In order to learn more about the current CSO website and what is in store for the future, I spoke with Kevin Giglinto, CSO Vice President for Sales and Marketing, and Sean Hopp, CSO Director of Web and Interactive Media.
DYNAMIC CHANGES



Undoubtedly, cso.org would not have captured the #1 spot in the 2008 review if it weren't for the quality and quantity of dynamic content used throughout the site. Not only did cso.org (along with the St. Louis Symphony Orchestra website) earn the highest score out of any orchestra website for that category, they earned the highest scores for sub-categories focusing exclusively on new media resources.
Drew McManus: Right now, the CSO website is one of the best examples available for how orchestras should be using new media tools, how have you approached incorporating them into cso.org?
Sean Hopp: So far, we've had a lot of success using [social networking sites] like You Tube, MySpace, and Facebook and we are looking into leveraging their APIs by incorporating them into our site even more. There is a great deal of valuable user data at each of those sites we can use to develop the functionality of the cso.org redesign project.
Drew McManus: The new cso.org?
Kevin Giglinto: Yes, we're currently developing an entirely new site from the ground up. The entire project is being approached as a blank piece of paper. We're using all of the knowledge from previous experiences combined with what we want to do and putting all of that together in a new website.
Sean Hopp: Currently, we aren't using the API from [social networking sites] to its biggest advantage but the new CSO website is being designed to incorporate those tools to create a higher degree of customized user functionality.
Drew McManus: Do you have some examples in mind that you're working with?

Kevin Giglinto: What makes us different from some other orchestras is the variety of events we put on at Symphony Center [beyond full orchestra concerts] and improving content management in a way that will enable users to tailor content based on their usage or account preferences is a good example.
Drew McManus: Is this something users will have to do manually or is it something that will take place seamlessly, behind the scenes?
Sean Hopp: We want to tailor that experience by minimizing active user input. The new site is being designed to improve data collection and processing to help our users customize their experience when they go to cso.org. For us, we have much more data on hand than what we're using but we can begin using that data once we develop a site that offers this sort of functionality.
Drew McManus: Are there any other websites out there you're looking at as a model?
Kevin Giglinto: We've been examining Amazon.com and Netflix regarding customization and personalization of the site for each registered user.
Sean Hopp: For example, I think could be more clever by disguising the user login procedure through an RSS feed or email communication.
Drew McManus: Speaking of RSS feeds, cso.org [along with the Los Angeles Philharmonic] garnered the highest score for the Syndication Tools sub-category. How are you currently approaching RSS feeds and where do you see them being used in the new website?
Sean Hopp: We're definitely moving in a direction to help use RSS feeds to minimize out of sight, out of mind syndrome. We've discovered that email messages don't have the same impact as in previous years but we've had increased success with RSS feeds and since they are more flexible, we're looking into getting much more out of staying in touch with users through RSS feeds in the new website.
TICKET SALES
A website won't do orchestras much good if it doesn't generate ticket sales so from a business perspective, orchestra websites are all about increasing revenue while decreasing sales and marketing costs. The CSO website has demonstrated strong accomplishments in this area over the past five years and they have big plans in store for the future.
Drew McManus: Okay, the cso.org website is great but what about ticket sales; how are things going?
Kevin Giglinto: Online sales this year continue to grow and 2007/08 sales were about 20 percent higher than the previous season. At the same time, the cost of selling those tickets continues to go down.
Drew McManus: What percentage of overall single tickets did the CSO sell online for the 2007/08 season?
Kevin Giglinto: Online sales comprised about 45 percent of single tickets sales and a big goal for this season is to drive even more sales online.
Drew McManus: What about subscriptions? Last year the cso.org website was just getting into some heavy subscription functionality for renewals and new sales. Are you seeing similar gains in online subscriptions and how are traditional subscribers dealing with creating user accounts before they can renew online?
Kevin Giglinto: We really pushed online renewals and new sales for [the 2008/09] season. We helped bring in current subscribers who didn't have cso.org user accounts by creating temporary logins. Compared to last season, we've quadrupled online subscription renewals.
Sean Hopp: To a large degree,
that success is the result of increasing the direct working process between marketing and IT and since the new website is being designed from this relationship, we hope that will continue these patterns.
For the 2008 review, several other large budget peers managed to challenge Chicago's benchmark status but just as they seem to be catching up, it looks like the CSO has plans to raise the bar to a new level. According to Giglinto and Hopp, the CSO plans to have the new website up and running by the time 2009/10 single tickets go on sale in August so mark your calendars to stop by cso.org in late summer to see what might be the next big thing in orchestra websites will look like.