Recently, Cincinnati based pianist and blogger, Joshua Nemith, posted an excellent pair of articles that provide detailed advice on how musicians who are not employed in a salaried position can survive and thrive in what he defines as "the new economy." Along with very practical recommendations, Joshua touches on a subject not discussed here in some time: the lack of adequate preparation at the college level for those entering the orchestra business…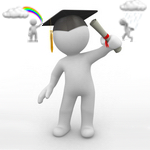 For the past decade, I've had the honor of presenting a number of lectures at music schools and conservatories across the country on what music students can expect when they leave school and attempt to enter the world of professional orchestras. Although schools have traditionally pushed back against the idea of exposing students to the realities they face (mostly out of fear it will scare them out of the career path) they seemed to be warming up to the idea, and that was a positive sign.
In fact, offering workshops and lectures on the topic actually makes a school more competitive as a larger portion of their alumni will have an easier time developing a satisfying career. Ideally, schools should be offering a series of courses designed to better prepare students for options that allow them generate income while not removing them the field of music performance. There are so many good options out there (many of which are addressed in Joshua's articles) and proper preparation only maximizes the possibility of success.
Unfortunately, as the economy has taken a dive, the paranoia that has clouded the judgment and vision of colleges and conservatories across the country is quickly returning. I've noticed them cutting back on opportunities for students to become properly prepared or, even worse, bringing in speakers who project an entirely unrealistic view of this business.
Yes, this business is tough and it can grind up the best of us (musicians and managers alike) in short order but the simple fact is that it is a great business to be in. It is rewarding and full of opportunity but that doesn't mean the problems are few or simple. Consequently, it needs incoming professionals to walk in with eyes wide open. As the old adage goes, Prior Planning and Preparation Prevents Poor Performance (the traditional version contains an extra "P") so why not give students what they'll need instead of forcing them to flail around blindly for it when they actually need it?
Joshua's Articles