In what feels like the orchestral equivalent of the overhyped Snakes On A Plane, the YouTube Symphony Orchestra fell into the world of online promotion like a cultural bat out of hell. Frankly, I don't get why some people see it as such a big deal. The egalitarian slant is quickly revealed to be nothing more than democratic pabulum since Michael Tilson Thomas hand picks the finalists anyway (as pointed out at Abu Bratsche in true "Levinesque" form)…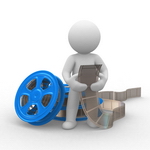 Is it interesting to see someone use a new media format for something culturally oriented? Sure, but ultimately that's all there is to this project. Consequently, the entire structure of this scheme doesn't merit the status of groundbreaking; in fact, I wouldn't be comfortable calling it ground-splintering.
Think of it this way: Does anyone remember the first orchestra to be broadcast on television? How about the first orchestra to release a recording on CD or record directly to digital? Me neither; and that is exactly where I think this YouTube project will end up.
From a positive perspective, I do hope this will be the first of many efforts to find better uses for new media platforms with regard to increasing the cultural consciousness. From somewhere a little more cynical, I hope this post is long enough so that I don't have to write anything else on the topic. If you're looking for more, I highly recommend you head over and read what the Iron Tongue of Midnight has to say about all of this as well as Soho The Dog. Both are chocked full of sufficiently entertaining and meaningful content.