As promised back in May, it is time to take a closer look behind the scenes at the San Francisco Symphony's (SFS) social networking site, which was officially launched on May 6, 2009. In order to find out more about how the organization designed the site, how much it costs, and what sort of goals they have in mind, I contacted SFS Director of Public Relations, Oliver Theil…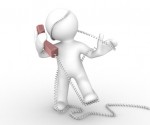 After the original article was published, a number of readers wrote in to say they were most interested in finding out more about the costs associated with developing the site as well as the sort of benchmarks the SFS has set to measure success. Unfortunately, those individuals will have to continue wondering as Theil was only interested in offering basic information on those points.
"…most of the work designing the site was done in house sporadically over the course of several months by a variety of people, led by PR but also including Marketing and IT," Theil wrote in an email.
Fortunately, Theil was willing to provide more detail regarding the development process.
"For us it was a 2-3 month developmental window pre-launch." Theil wrote in an email. "In our immediate post-launch phase, ongoing site moderation and maintenance by our PR team has varied, depending on content aggregation, seeding and individual engagement, but it's in the neighborhood of 10-15 hours a week for one community manager, for now."
Lastly, my previous article expressed concerns over a restrictive Terms of Use policy that I described as "a bit too much of an old-school 'what can you do for us?' one-way relationship approach." I asked Theil about this and he pointed out that some content contains links to embed material elsewhere throughout the intent.
He also pointed out their use of Ning's boilerplate Terms of Use page, which contains relatively generous policies regarding use of content. At the same time, the SFS community site still publishes a separate Terms of Use page that lists the highly restrictive language referenced in my original article. At the very least, the dueling Terms of Use pages present an awkward scenario for users and the site would be better served by publishing a single policy.
Speaking of social networking, the folks over at Wolf Trap Opera Company (WTOC) launched their own Ning based social networking site. Christened the Wolf Trap Opera Hotspot, now you're in the know… the site relies on Ning's hosted platform solution and at the time this article was written, has 69 members. Hopefully, WTOC's director and blogging mistress, Kim Witman, will post details about the venture sometime in the near future.