According to a 9/11/2009 press release issued by the Indianapolis Symphony Orchestra Committee, the musicians rejected a final offer from the management of the Indianapolis Symphony Orchestra (ISO). The ratification vote came a week after the ISO announced a list of guest conductors replacing former ISO music director, Mario Venzago, for the 2009/10 season…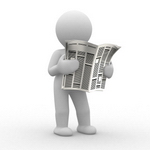 According to the musicians' press release, the players unanimously rejected management's last offer. Martin Hodapp, Secretary-Treasurer of Local 3, American Federation of Musicians which represents the ISO musicians, said "…the musicians and librarians of the Indianapolis Symphony Orchestra voted to reject the Indiana Symphony Society's last offer by a vote of 76 to 0."
Aside from the potential that Mr. Hodapp might get a letter from the Major Orchestra Librarian Association wondering why "librarians" are distinguished separately from "musicians" the press release doesn't contain many details. In fact, there is no mention of the event at the ISO website although ISO president and CEO, Simon Crookall, was quoted in the 9/12/2009 edition of indy.com in an article by Jay Harvey saying "Negotiations are continuing, and will be resumed in the next few days. We're all working very hard on it."
Nonetheless, even though there are few direct details, you can go mining for data in-between some lines. For example, the likelihood of a work stoppage in the near future seems minuscule since even though the musicians remind readers that their contract expired on 9/6/2009, the following paragraph mentions the opening concert date and the following week's gala concert.
Of course, that could also be interpreted as a sly indication that opening concerts are coming up fast and they want a new contract in place beforehand. The likelihood is there is marginal room for concern here as the historic practice among most musician associations and orchestra administrations is to give some sort of advance notice to ticket holders of a lock-out or strike.
Then again, these are unusual times.