In anticipation of the upcoming 2009 Orchestra Website Reviews, there is one particular new feature worth mentioning in advance. After years of hearing from readers about which features they find important in an orchestra website but never having a way for them to incorporate them into the reviews, I am very happy to announce that 2009 will be different. This year's examination will give you the opportunity to rate each orchestra website included in the review yourself…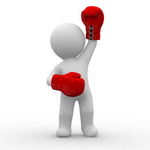 Final touches are still being put together but once completed, you will be able to go to a special page and rate each website using a similar 5-star rating system like the one used by Amazon.com. After several years of painstakingly combing through professional orchestra websites and rating them based on a clear set of quantifiable criteria, I'm looking forward to seeing what stakeholders feel.
In order to get your review groove on, here's a list of all the US and Canadian orchestras included in the 2009 review linked to their respective websites so set aside a little time each day over the next week to visit each site. Everyone will be encouraged to rate websites based on whatever criteria they feel is important, but if you want to follow the criteria used in the official reviews, you can use the 2008 criteria as a very useful guide.
US ORCHESTRAS

CANADIAN ORCHESTRAS

A (Small) Failure To Communicate
Returning to the 2009 reviews are the orchestra surveys which are designed to be completed by representatives from each respective review orchestra and provide everyone with details about each orchestra's website that go beyond the items included in the review. Perhaps the most important element of the surveys is providing an opportunity for each organization to include any additional information they feel is relevant to their current website condition and this is where each group can take advantage of an opportunity to do just that.
Each US and Canadian orchestra in the review was sent a special email with a link to the online survey, instructions, and a list of survey questions. Unfortunately, a few email addresses kept bouncing back as undeliverable and after attempting to verify marketing director contact information, I discovered that the following organizations provided no email contact information (not even a contact form). I encourage anyone from these orchestras to contact me directly to obtain the survey link and information.
Dallas Symphony Orchestra
Kansas City Symphony
Long Beach Symphony Orchestra
Minnesota Orchestra
The Saint Paul Chamber Orchestra
Winnipeg Symphony Orchestra
Finally, if you are a marketing director at any of the orchestras included in the 2009 review and did not receive yesterday's survey email notice (spam filters can be overzealous sometimes), let me know and I'll forward along the information. The deadline to complete the survey is Wednesday, 9/30/2009, so don't wait!