By and large, 2009 was a tough year for the field and although some groups will continue to stumble in the weeds, others are making progress on finding institutional balance while several are well on the way to stabilization. For example, the Charlotte Symphony released a statement on 12/31/09 announcing a new program to build annual operating revenue following the successful completion of an ambitious bridge fund campaign. Conversely, news out of Cleveland via Zachary Lewis at The Plain Dealer reports on brewing labor issues…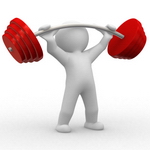 Rest assured, we'll be keeping an eye on those situations and more throughout 2010, but it is clear that the business will continue to find ways to improve efficiency and make better use of limited resources. After all, necessity is the mother of all invention and to that end, I'm eager to begin writing about a new platform that will significantly boost marketing, development, and outreach performance for the vast majority of nonprofit performing arts organizations.
That's all I can say for the moment but over the course of the next few months, you can expect to read more.