The Seattle Symphony and their musicians have reached a tentative agreement. The new agreement, which has yet to be ratified by the musicians, will last 23 months over the course of three seasons and contains some very unique elements (although not entirely unprecedented for the Seattle Musicians). As I'm invovled with the American Orchestra Summit Day 2  (I'll post Twitteresque updates again through the day if possible) and giving a lecture/Q&A session to students in the Arts Enterprise @ UM tonight, here are a few links for more info. Last Updated 11:10am…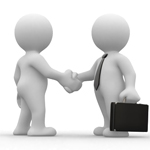 American Orchestras Summit Day 2
Session: Sustainable Partnerships: What Works?
Before the session begins, I find myself thinking 'Let's all work together, but under my vision and leadership."
Russell Willis Taylor: Don't partner with anyone that makes you feel like they're doing you a favor.
Russell Willis Taylor: Determine who is the decision maker and have multiple points of contact.
Aaron Dworkin: Partnerships benefit from "trust, but verify." (Where have I heard that before?)
Paul Ganson: "As a historian, I don't want to talk about partnerships that work, but partnerships that worked."
Observation: Paul Ganson is a wonderfully entertaining speaker.
Aaron Dworkin: We avoid legalese in written agreements and use more emotional language but we do include detailed roles and responsibilities.
Susan Key: document during events, not after.
Session: An open discussion with remaining participants about actionable next steps; future conferences, etc.
Although the speakers recapping the session I attended are saying some very good things, so far they've hardly mentioned anything we talked about that comprised the better part of the last half of the session. The lack of inclusion about the labor relations issues and direct support for government affairs activity was especially disappointing.
Session: open discussion
There's plenty of conversation about preparing students for the reality of a career as an orchestra musician but no talk about the honest politics behind the scenes within the university system that dictates who delivers that message, what that message says, and if it the information is filtered.
Observation: Once again, Joseph Horowitz continues to drill in the notion that there is some sort of universal oversupply of orchestra concerts. Not only is this notion inaccurate but I am concerned that it will become engrained into the fabric of this Summit and if it does, it would be a large disappointment.  More on my thoughts about this here.
You can find a summary of my thoughts, ideas, and observations from Day 1 here.