Thanks to Dale Fisher's new blog, The Revolution Starts…Now?; just one guy's opinion on trying to make sense of the social media revolution at hand for pointing out a wonderful program from Google that is handing out as much as $10,000 per month in FREE AdWords advertising for qualifying nonprofits (that's $0.23/min of sponsored link goodness). The astute readers out there have no doubt already picked up on the buzz word "qualifying" but thanks again to Dale who provides some ideal firsthand experience in how to maximize the probability of getting approved…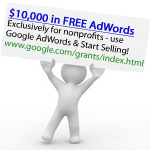 To begin with, Dale points out that patience is indeed a virtue as his application review process via the St. Louis Symphony Orchestra (SLSO) took him over six months. From there, the learning curve continued in the form of determining which keywords were copacetic within Google's parameters.
I exchanged a few messages with Dale to find out more about that and he explained that it is somewhat of a guessing game when it comes time to selecting keywords but don't let that be discouraging. Users also have to be vigilant about keeping their AdWords account up to date. "If they notice you are not logging and updating your account monthly at the minimum, you can be canceled," said Dale. That's a miniscule price to pay for so much access to such a valuable advertising platform.
Nonetheless, ten large in free advertising a month via one of the most effective platforms for online advertising makes this a no-brainer. Moreover, the narrow keyword focus can easily be turned into a strength as it encourages nonprofits to experiment with designing hyper targeted advertisements.
My advice to anyone who gets approved for the process is to plan ahead by learning how to properly track your campaign results beyond the already excellent set of metrics tools included with every AdWords account. Ideally, your website should be fully integrated with Google Analytics (or a metrics program of similar quality) and you should be able to use that expanded data to determine the precise impact on ticket sales and overall conversion rates as well as getting a better picture for user navigation paths as they relate to each AdWords campaign.
And don't forget about A/B test opportunities (more via the official AdSense blog). Once again, in an ideal setup you should have direct and on-the-fly control over each individual page within your website, the layout of elements within pages, and the actual content. As such, you can begin to get a much better idea of which page layouts and navigation designs maximize conversation and user interaction. For example, the seemingly simple act of tweaking an action button color and placement can improve conversation result by double digit percentages if you're paying close enough attention.
In short, don't let these opportunities pass you by. No matter how busy things are right now, this is worth the time and effort!
Additional Google Grant resources: