Not exactly prime material for college recruiting material, is it? Nonetheless, this is precisely the news delivered by Charles Purdy, Yahoo! HotJobs senior editor, in an article that presents the ten worst-paying college degrees. Although the report doesn't acknowledge precisely which music careers are encompassed in the categorization, it's a strong bet that "instrumental performance" is a part of it…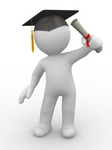 According to Purdy's source, Music degrees have a starting annual salary of $34,000 which rises to a mid-career annual salary of $52,000. If you drilled down into those numbers, the starting figure for most orchestral musicians is likely in the high teens or low twenties. Of course, that assumes graduates get a performance job in the first place (or can even cobble together a gig career).
Interestingly enough, 3/10 of the degrees on this list are arts related and out of those, Music is at the bottom. Coming in at #9 on the list is Fine Arts and right behind at #10 is Drama. Arts Management was nowhere on the list.
The three college degrees that rank lower than Music are Theology (#3), Elementary Ed (#2), and Social Work (#1); which means there's some wiggle room for college recruiters to put a positive spin on the degree.
Get a career in music; it pays more than serving a higher power.

Music: at least you're not teaching little kids.

As a musician, you'll make more than those trained to help others.