For the second year in a row, the average Music Director of an ICSOM ensemble experienced the smallest real average percent increase when compared to the other stakeholder groups. Granted, those figures continue to be skewed a bit since several of the larger budget orchestras did not have a full time music director during the 2007/08 season, but it stands in stark contrast to executive gains in the same season…
WHERE THE DATA COMES FROM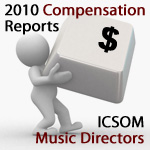 In order to provide information that is as accurate as possible, data from the 2007/08 season is gathered from the following sources:
Music director compensation figures were obtained from their respective orchestra's IRS Form 990 for the 2007/08 concert season.
Total Expenditures were also obtained from each respective orchestra's IRS Form 990 for the2007/08 concert season.
Adaptistration makes no claim to the accuracy of information from documents compiled or reported by external sources. If you have reason to believe any of the information is inaccurate or has changed since reported in any of the above sources and you can provide documentation to such effect, please feel free to submit a notice.
WHAT THE NUMBERS DON'T SHOW

It is important to remember that the numbers shown do not always convey a complete compensation picture. For example, a music director may have had a large increase in salary due to leaving a position and per terms of the employment contract, may have received a sizeable severance or deferred compensation package. As such, the cumulative compensation may artificially inflate annual earnings.
Furthermore, these figures may not reflect bonuses or other incentive payments, therefore underreporting what conductors may actually earn nor do they include combined salary figures for conductors serving as music director for more than one orchestra. Also missing from the figures are expense accounts and other perks; as such, the cumulative compensation for music directors may or may not be more than what is listed. Additionally, the documents used to gather data do not indicate how much of the season an individual received a salary. As such, excessive adjustments in the percentage change from the previous season's compensation may be artificially adjusted.
Although the music director compensation figures include the combined amounts reported as what the IRS classifies as "compensation" and "contributions to employee benefit plans & deferred compensation," each orchestra does not always report figures for the latter category. Additionally, some organizations list music director compensation among the five highest paid private contractors as opposed to employee compensation. In these instances, no information about benefits or deferred compensation is available. Finally, in instances where music directors also perform as a featured soloist with their ensemble, these fees are sometimes negotiated under separate contract for others, they are included in their music director contract.
The "Base Musician" compensation figures do not include any additional payments including, but not limited to, outreach services and minimum overscale and/or seniority payments. Finally, these figures do not include any of the opera, ballet, or festival orchestras which are members of ICSOM or IGSOBM.

REAL AVERAGES

In order to obtain a clearer picture of changes in average compensation, compensation data from orchestras that did not pay a music director for an entire season or paid an incoming and outgoing music directors in the same season are factored into a "real average." Although this is not a definitive figure, it does assist in proving a more comprehensive picture of compensation.
When applied to this year's data the average change in music director compensation goes from 6.54 to 0.02 percent, which makes them the stakeholder with the smallest gain during the 2007/08 season. At the same time, the drop is due in large part because of the increase in vacant big budget music director positions (Chicago, Dallas, Detroit, and Pittsburgh), all of which were filled in subsequent seasons.
TOP 10 EARNERS AND QUICK FACTS

The highest paid music director earned two percent less than the previous season.
The average annual compensation for a Top 10 highest paid music director was $1,425,896.
Cumulatively, the Top 10 music directors earned $14,258,961, which is higher than the total expenditures for nearly half of the ensembles in this group.
The number of multi-millionaire music directors dropped from two to one.
MAKE OF IT WHAT YOU WILL

The 2007/08 season was an odd one for music directors. Nearly a quarter of ensembles were without a full time music director or were in the midst of an incoming/outgoing transition. Certainly, this had an impact on averages but at the same time, the enduring debate surrounding the return on investment for music directors is alive and well. Hindsight tells us that since these figures from the 2007/08 season, a number of orchestras decided against renewing their music director's contract as a result of non-artistic issues.
Undoubtedly, the debate surrounding music director compensation levels, "new economy" motivated duties and responsibilities, and whether or not it produces a justifiable return on investment won't end any time soon. At least, not until the economy stabilizes.