No, this isn't about any of the current labor disputes. Instead, this is about an online feud between Greg Sandow and Heather Mac Donald. If you aren't aware of what's going on here's the 10 second synopsis: Mac Donald wrote an article titled Classical Music's New Golden Age (meaning now) but Sandow didn't like what she had to say so he wrote 5,413 words (most of which were entirely unflattering) over five articles to explain why. Shortly thereafter, Mac Donald fired back with a scathing retort…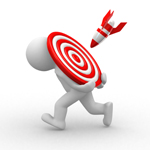 In most online debates, the respective authors are polite and happy to examine differences in opinion but from Sandow's initial volley, it was clear that this wasn't going to be a good-natured "agree to disagree" dispute. On a simplistic level the argument pits the "prophets of doom" (as coined by Sam Bergman) against those with more of a upbeat outlook, with Sandow spearheading the former and Mac Donald characterizing the latter.
To say that the tone of these exchanges is dreadful is probably an understatement, and that's coming from a blogger who will readily admit to being frank (I'm not sure how else to describe recommending that orchestra musicians should consider leaving their union). The Sandow-Mac Donald exchange is a veritable smorgasbord of logical fallacies serving up copious helpings of ad hominem, tu quoque, hasty generalizations, appeal to authority, weak analogy, and false dichotomy. For dessert, they dumb it down a bit with some good old-fashioned name calling.
In short, this sort of behavior by two established professionals is distressing and although Mac Donald has far less to lose in this exchange as her career path isn't located primarily within this field, Sandow is placing himself in certain jeopardy by coming across like some sort of Ahab-esque monomanical "prophet of doom." As mentioned above, that moniker was coined by Sam Bergman who earlier this week singled out Sandow as a member of "chattering class" (again, Bergman's sharp wit at play) who is "consistently, unceasingly, 100% wrong" in all of his dire predictions about the orchestra field.
But here's the real curiosity within all of this: Sandow published five separate blog posts in response to Mac Donald's initial article and I'm at a complete loss as to his motivation, not to mention thoroughly befuddled over why one entry wasn't sufficient.
For starters, Mac Donald's article wasn't making any sort of terrific splash inside the field. It wasn't as though players' associations, orchestra boards, the NEA, philanthropic foundations, or service organizations were espousing it as the latest-greatest thinking inside the business. Moreover, it didn't even mention or refer to Sandow so there's no reason he should be offended on a personal or professional level.
Regardless, it clearly pushed one of his buttons (apparently, the one labeled "unleash the dogs of war") and the result was vitriolic. In response, Mac Donald published her own equally heavy handed retort of mass destruction. If nothing else, she reaffirmed that hell hath no fury like a woman scorned.
Ultimately, it is a shame that such willful and mutual character assassination exists within a field that has far better things to do besides argue about whether or not it's in a death spiral. On the other hand, it's worth taking the time to skim over all of the respective Sandow-Mac Donald content if for nothing else than to serve as a useful frame of reference on how not to go about engaging in an online dispute.
Fortunately, this sort of incident is an exception and not a rule throughout most of the cultural blogging community so don't let this keep you from joining online discussions. In fact, I encourage everyone to jump right in now and post a comment here with your thoughts on all of this.
For reference, he's a chronological list of the Sandow-Mac Donald fight as it has unfolded to date: