The 8/24/2010 edition of the Detroit Free Press published an article by Mark Stryker that digs into the details surrounding the ongoing, and increasingly entrenched, negotiations between the Detroit Symphony Orchestra (DSO) and their musicians. Stryker's article focuses on the fundamental issue of musician compensation: its history, current standing, and potential future…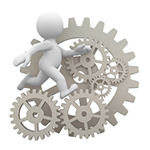 Not unlike other articles about the situation, Stryker includes perspectives from a number of usual suspects, including me. League of American Orchestras president and CEO Jesse Rosen once again espouses a beyond-our-control point of view and that the organization is merely dealing with the aftermath of the economic downturn as best as it can.
But the DSO musicians reject the external pressure argument and point to failings in leadership such as what Stryker summarizes as "unrealistic assumptions in financing the Max [the DSO's concert hall and music center], now a source of debilitating debt." According to the article, the players "acknowledge the impact of the recession, but they say poor management has exacerbated the problems. They accuse Parsons' administration of inadequate fund-raising, pointing to high staff turnover — four vice presidents in charge of fund-raising in four years — as a sign of disarray."
One aspect Stryker referenced in his article that everyone should note is a recent report from the Ford Foundation which asserts "The facts suggest the only way the DSO can possibly become financially viable is by drastically reducing orchestral costs. Barring such a change, the DSO will probably be forced to close."
From a professional perspective, the last thing the DSO needs to do at this point in time is make substantial strategic plans regarding the mission, scope, and structure of the institution. Clearly, Detroit is amidst a period of substantial change and although the city is undeniably in a period of decline, the transitional nature of these changes indicates that the outcome is far from known.
Consequently, a recommended course of action includes focusing on securing a mutually agreeable three year contract that manages debt, preserves artistic standards and peer standings, and allows everyone to monitor the economy. If, at the end of that contract, the economy has sufficiently stabilized, the DSO will be in a much better position to revisit restructuring efforts. Of course, that assumes restructuring is even needed.
In addition to Stryker's article, the paper published an appendix piece titled How salary proposals compare with other top U.S. orchestras that draws on compensation data from Adaptistration Premium, International Conference of Symphony and Opera Musicians, and Stryker's own research. You should definitely check it out.