Between 9/25/10 and 10/12/10, 72 professional orchestra websites were examined and ranked by how well they presented their concert schedule, sold tickets, facilitated making donations, provided organizational information, utilized dynamic content, and on overall content and functionality. On a positive note, the average score reached a new all-time high since the reviews were launched in 2004…
Keep in mind; the websites were not examined on the subjective basis of color schemes, graphics, or other aesthetic qualities except in cases where those elements hindered functionality. Consequently, the reviews are not only fair but based on a set of quantifiable criteria, all of which allows orchestras of varying budget size to be evaluated on an even playing field.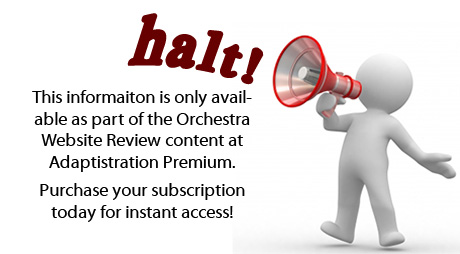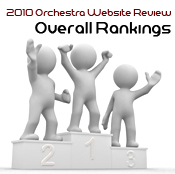 The only new orchestra in this year's Top 10 is the Utah Symphony & Opera. For the second year in a row, one of the review's newest ensembles, Orchestra Iowa, earned the highest score of any ROPA ensemble.
Historically, the difference in score between the #1 and #2 slots has always been very close but the remaining Top 10 spread is usually much larger; however, that changed in the 2010 review. Here are some examples to illustrate just how easily small improvements could have impacted the final results:
If the Saint Louis Symphony Orchestra included an interactive concert calendar on their homepage and posted a copy of their most recent IRS Form 990, they would have moved to First Place with a score of 91.60.
Although the LA Philharmonic made some extraordinary advancements over the last few years, they were hindered by the lack of individual seat selection and multiple giving opportunities, something their budget peers all offered. If they implemented those changes along with improved staff contact information, they would have moved up to the #1 or #2 slot.
All that was keeping the San Francisco Symphony from taking over the #1 spot was spotty institutional transparency documentation and expanded RSS tools.
The New York Philharmonic failed to break into the Top 2 for a second year in a row due to a lack of publicly accessible press content, the inability to select individual seats for subscription purchases, and scant administrative contact information.
Even smaller budget orgs with a lack of box office control could punch into the Top 5 by filling out areas where larger budget peers still fall short such as maxing out in the Orchestra Information category. In particular, even though Orchestra Iowa has box office limitations beyond their control, they still could have taken the #3 spot by satisfying requirements in the Orchestra Information category along with offering a few more RSS feeds for press releases and concert events.
Tomorrow's article will examine detailed category scores and survey results for each orchestra in addition to analyzing scoring trends over the past five years.
---
The Venture Platform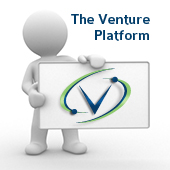 One of the byproducts from conducting the Orchestra Website Reviews for so many years, listening to so many marketing and IT professionals pinpoint their frustrations with developing an online presence, and working directly with numerous groups on these efforts is a precise knowledge of what arts organizations need to improve those efforts. Over the years, I've searched for a way to bring all of this together by creating a system designed especially for performing arts organizations and over the past season that goal was finally achieved with the release of The Venture Platform.
I am enormously proud of what Venture has to offer and I firmly believe it will have a positive impact on how performing arts organizations will successfully present their concert schedule, sell tickets, facilitate making donations, provide organizational information, and utilize dynamic content on a platform that's designed especially for their needs.
Read more about Venture and how it relates to the Orchestra Website Reviews from Monday's disclosure article.