The 2010 reviews witnessed a number of positive trends, the most notable being a strong uptick in average scores among all budget size organizations. As a result, the reviews produced the highest ever average score of 71.23 and finally broke out of the "Grade D" basement…
Grades and Scores
For 2010, overall grades showed signs of improvement. Although the percentage of orchestras to earn a minimum acceptable grade of B (80/100 or higher) comprised a minority percentage of overall scores, that figure was the highest in the review's history. The number of organizations earning a grade of C or D remained steady but the number of orchestras earning a grade of F was at an all time low. At the same time, the latter improvement was the direct result of having fewer orchestras in the review due to increased minimum requirements. Among those cut, the vast majority regularly earned a grade of F.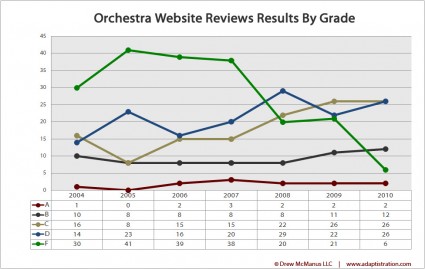 When examining the average scores by conference, this year's review indicates a sharp increase in ROPA scores, although that is likely due to same reasons grades increased. The following chart illustrates the changes in average score by conference since 2004.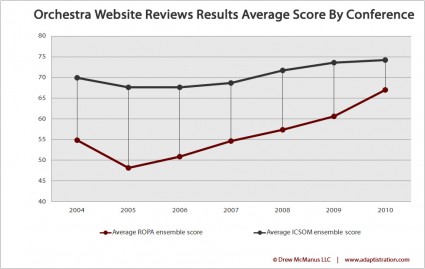 Average results by category were mixed for 2010. Overall, they improved but that was due mostly to rapid improvements in some categories outpacing marginal decreases in others. Of the five review categories, the category to improve the most was Making Donations. This increase was due almost entirely to more orchestras taking advantage of third party online donation processing and a small increase in the variety of giving opportunities. Another category to benefit from upward trends was Dynamic Content as a slew of ensembles created one or more social media initiatives, which were then listed at their institutional website.
Two categories that slumped a bit were Performance Schedule and Functionality, with the latter suffering mostly from a decrease in the frequency of privacy policies. The former category fell a bit due to the increase in the number of organizations listing an event calendar on the main page that redirected users to an interior page instead of providing related event information alongside the calendar.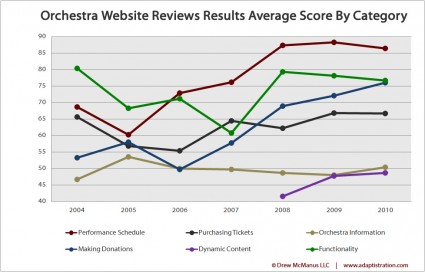 Detailed Scores
New for the 2010 reviews is an interactive data table to display category scores, which makes it easier for groups to compare how their organization performed per review category alongside their peers. A similar data table with greatly expanded information that drills down through sub category scores will be available at the end of October as part of an Adaptistration Premium subscription.
[table id=2 /]
Survey Responses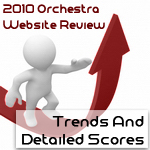 Each year, orchestras in the review are invited to complete an optional survey designed to provide readers with information about each orchestra's website that go beyond the items included in the review, such as ticket sales information and design details. But perhaps the most valuable component is the open-ended essay question that provides the opportunity for orchestras to include any additional information they feel is relevant to their organization's website. As such, the essay responses are presented unedited.
[As a personal aside, I would like to thank each group that completed the survey and indicated they would allow the full results to be published alongside the reviews. Kudos to each orchestra for taking the time to participate in improved transparency, especially at a time when life in the office is busier than normal for most professionals!]
---
The Venture Platform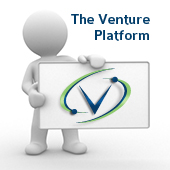 One of the byproducts from conducting the Orchestra Website Reviews for so many years, listening to so many marketing and IT professionals pinpoint their frustrations with developing an online presence, and working directly with numerous groups on these efforts is a precise knowledge of what arts organizations need to improve those efforts. Over the years, I've searched for a way to bring all of this together by creating a system designed especially for performing arts organizations and over the past season that goal was finally achieved with the release of The Venture Platform.
I am enormously proud of what Venture has to offer and I firmly believe it will have a positive impact on how performing arts organizations will successfully present their concert schedule, sell tickets, facilitate making donations, provide organizational information, and utilize dynamic content on a platform that's designed especially for their needs.
Read more about Venture and how it relates to the Orchestra Website Reviews from Monday's disclosure article.