On December 13 and 20, 2010, Detroit's WRCJ 90.9 FM broadcast interviews with Detroit Symphony Orchestra (DSO) Executive Director, Anne Parsons, and DSO musician spokesperson and cellist, Haden McKay. Program host, Chris Felcyn, set the tone by asking a single, straightforward question: "If you had a magic wand that could bring a settlement to this strike, please describe your vision of what the post-strike orchestra would look like."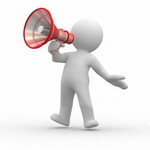 In order to keep the conversation grounded in reality, Felcyn added the following caveat: "This magic wand does not include a huge bucket of money." The segments are only available at the WRJC website so head over and give each one a listen.
After processing the non-events from the Levin/Granholm proposal and the content in both interviews, it is increasingly easy to see why supporters are losing faith in the DSO's direction. The Detroit News published an article on 12/24/2010 by Michael H. Hodges that reports a group of symphony supporters purchased a full page advertisement in that Sunday's Detroit Free Press claiming the "Detroit Symphony Orchestra management has been incompetent in managing its finances and intransigent in handling the nearly 12-week old strike."
As the labor dispute and related work stoppage drag out, don't be surprised to see more organized voices like the one featured in the Detroit News article pop up to influence the outcome. In the meantime, I know what piqued my interest in the WRCJ segments but I'm more interested in hearing about your observations and thoughts. So take a moment to send in a comment or email.