There was an interesting bit of news about the Detroit Symphony Orchestra (DSO) labor dispute in NPR from Jennifer Guerra on 3/16/2011 about how the dispute has played out in social media. That article contains a quote from Christie Nordhelm, a University of Michigan marketing professor, who offered the following advice on how the DSO should approach social media."First: Shut up, just stop. And then second: Wait quietly until people forget."…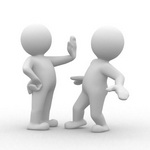 Although there's certainly plenty of value to that tactic, especially from a public relations perspective, it does have limitations. For example, there was no way to ignore the tidal wave of protest emanating from social media channels when the Sarah Chang recital situation exploded into public view. The really important part you should notice in Guerra's piece is that the DSO is using their established, official social media outlets to publicly communicate their position.
This is where Nordhelm's advice is best applied. The governing organization should never use established online channels to communicate and interact with stakeholders during a labor dispute. Certainly, they can expect plenty of inquiries but they should all be politely directed toward the temporary social media outlets created exclusively for the dispute.
At bare minimum, this means an organization will need either a blog platform or a Facebook page. A clearly stated communication policy should be constructed so as to define the parameters of public engagement and once the dispute is resolved, the pages and related content should be deleted. At the same time, creating specialized communication outlets during a dispute isn't a license to launch weapons of mass communication destruction. Regardless of how long the dispute lasts, both sides will need to fight against those temptations.
Perhaps it's time to put all of this together in a single source and write McManus' Art Of (labor) War. What do you think?