The 2011 Take A Friend To The Orchestra (TAFTO) program begins in a few weeks; although it is set to begin on Monday, 4/18/2011 the exact publication schedule is still being determined as we try to balance the need for TAFTO space next to the need for reviewing labor dispute related current events. Nonetheless, 2011 promises to be another fantastic year. So between now and the onset of TAFTO contributions, get your empowerment on by organizing your own TAFTO related events via social media or good old fashioned get-togethers…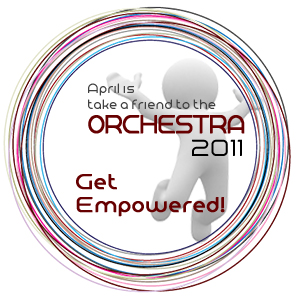 I'll be happy to post notices for anyone's events, all you have to do is send along the info via email, or get in touch using Facebook or Twitter. In the meantime, here is a list of 2011 contributors (additional contributors will be added once confirmed):
You can find special promotional banners for each of the contributors above along with details on how organizations and individuals can get their own TAFTO event going and much more at the TAFTO microsite.