The Detroit Symphony Orchestra (DSO) has reached a settlement but that shouldn't be confused with conclusion. Even before the orchestra enjoyed a weekend reveling in a pair of free concerts back in Orchestra Hall, public statements from both sides indicate that although the strike is over, the war continues…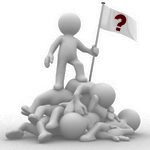 The Detroit Free Press and Detroit News published a battery of articles over the past several days with statements from both sides. Multiple musician spokespersons have made it crystal clear that they believe the DSO needs changes among the current leadership and more accountability.
But in a sign of the bitterness engendered by the strike, [Karl Pituch, principal horn and chairman of the musicians' negotiating committee] also aimed a dart at management and board leadership: "The problems which led to the strike, and those who were responsible for those problems, continue." (4/7/11 Detroit Free Press; article by Mark Stryker)
Despite the vote for approval, violinist Joe Goldman said bitterness runs deep among the musicians.
"We're excited to be performing for our audiences once more," he said, "but the problems that caused this strike are still there. We need some changes in leadership, people who can solve problems of marketing, development, the summer season and financing of the hall.

Goldman said the musicians "were forced out on strike by terms that were totally unacceptable. After 26 weeks it would be unusual if there weren't a sense of discontentment. It's going to take changes as well as time before the wounds are healed." (4/9/11 Detroit News; article by Lawrence B. Johnson)
Although it isn't unusual for a labor dispute this bitter to result in musicians accepting concessions beyond their minimum acceptable level, it is typically accompanied by the proviso that the organization institutes a change in leadership (board and/or executive). When this happens, public statements associated with the agreement certainly don't reference the deal while announcements regarding the departures are made a month or so afterward so as to minimize public attention.
Given the musicians' statements above, it seems unlikely that any sort of handshake deal along these lines was ever achieved. I asked Elizabeth Weigandt, DSO Director of Public Relations, if the organization has issued any reply to the musician statement about the need for leadership change and although the request was acknowledged, at the time this article was published they have yet to reply.
On management's side, public statements focused on continued accumulated debt without a plan for recovery, exactly the sort of scenario they claim put the institution into trouble to begin with.
DSO Vice President Paul Hogle said the new pact would require $40 million in contributed income and $18 million in ticket sales over the next three years. He said both goals are ambitious but that even if both are met, operating costs still would result in deficits of $1 million to $3 million each year…"Here's a picture for you," Hogle said. "We currently have subscribers to fill about 125 seats per concert for our spring concerts — in a hall that seats 1,972." (4/9/11 Detroit News; article by Lawrence B. Johnson)
So, the reality of the DSO's situation is most of the problems that both sides defined over the course of the dispute are still in place. Management portrays bleak projections while the musicians focus on the need for change at executive levels of the administration and board. Do you think this is a platform for success?
Postscript: After completing this article, I came across a video produced by the guys over at soundnotion.tv who attended Saturday evening's free concert. What's fascinating is they brought a camera and mic along with them to talk to patrons, Elizabeth Weigandt, and DSO bassist Rick Robinson. Of particular interest is the segment with Robinson 13 minutes into the video where he expresses joy at being back in the hall but he also reiterates some of the musician sentiment Pituch and Goldman expressed to the papers. Clearly, labor relations continue to be every bit as stained (strained?) now as they were going into the dispute.