I was having a drink with some colleagues not long ago when our group was approached by a fresh out of college arts admin major looking for gainful employment within the orchestra administration field. He started complaining about how difficult it was to look for a job online. "It sucks!," he said. "All of the sites want to charge job seekers or job posters – or both – for the privilege of looking for work"…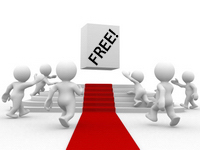 I felt bad for this guy as he didn't have much money to be spending on something like pricey memberships just to look for a job. Granted, it has been a very, very long time since I've bothered to look at the League's career's board, Artjobs, or any of the other arts field related jobs boards but I recall not liking them very much. On one hand, the populist side of me bristles against charging job seekers for the "privilege" of working access while my capitalist side gets a cold shiver at charging cash strapped orchestras for posting employment opportunities.
With the goal of resolving these misgivings, I took a look at the predominant art focused job boards and based on what was there, I found no reason why I shouldn't be able to design a free jobs service to bring organizations and job seekers together. Thanks to a giant hosting account I'm already paying for anyway and a boat load of web development and design experience, I can toss off this project without much trouble at all.
Combine that with Adaptistration's mammoth amount of daily traffic from orchestra managers across every sector of the field and we have some hefty leverage to maximize. Simply put, this could be a big hit in very short order.
Let's just think of it as a way to give back to a business that I love by helping everyone on both sides of the job fence equally.
Here's What Will Happen And Why I Need Your Help
Starting next week, the 2011 Take A Friend To The Orchestra (TAFTO) program kicks off so I won't be posting any new blogs personally until the last week of April (unless Philly really blows up). In the meantime, I'm going to put this plan into motion. Here's what you can expect:
The job site will focus on orchestra, chamber music, and opera related administrative jobs in the US and Canada. If things go well, I'll consider expanding it to other disciplines.
There are no plans to include artist openings (instrumentalists, singers, etc.); instead, the site will focus on administrative positions (full time, part time, temporary, contract, and internships).
Organizations will be able to post openings free of charge through an automated online process. All postings will be manually approved before appearing online (just like blog comments).
There will be no limits to how many positions or how often an organization can post or how much a job seeker can search.
Job seekers can search through listings free of charge but a free user account will be necessary in order to view full listings.
You won't be pummeled with ads. In fact, I doubt that I'll even accept advertisement. The only notices I anticipate will be for my own products and services (but I promise they will be unobtrusive).
The site will not store resumes, etc. This isn't going to be some sort of head hunter's buffet.
The only potential fee based option might include setting up a direct online application form, but I haven't decided on that one yet. And if so, that will only impact those posting jobs.
But in order to make sure the site offers everything it can, I need your input. What do you want in a new jobs board (layout, features, user interface, etc.)? Post your thoughts below in a comment or send in an email.
HERE'S THE MOST IMPORTANT ACTION ITEM
It won't matter if I launch the best arts focused job site ever if there aren't many positions listed. So what I need is for everyone to spread the word:
If you work at an orchestra or opera organization and have current openings or will soon, send along the details via email and I'll load them into the system in advance of the launch. The site is now operational so head on over to the job submission page to post jobs directly.
Mention this to your colleagues and start generating some buzz; send emails, text messages, tweet it, post it on Facebook and LinkedIn, you know the drill).
Assuming enough content comes in over the next few weeks, I could have something up and running as early as May 1st!