Three years and two weeks ago when I launched the Inside The Arts blogging exchange, we had a book review blog called Books On Culture. In its brief blogging life, it was actually quite popular and ever since the original author underwent a few life changes that prevented him from keeping up with the blog's publication schedule, I've been looking for someone to take over.
I've come close on a few occasions but the lack of success to date keeps coming back to the publication schedule. But I really want to get this blog up and running again so in addition to keeping my eyes out for someone, I'm going to open it up to applications.
Here's What You Need To Bring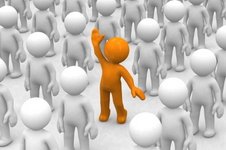 Do you need to be an active writer or have a degree in anything related to writing? Nope; in fact, I don't think any of the authors at Inside The Arts fall into that category. But I won't hold it against you if you do. Instead, use the following guidelines to determine if you should screw up the courage to apply.
Be capable of writing a minimum of two reviews per month.
Can review children's books from time to time; meaning you have children (or nephews, nieces, etc.) so as to include their observations and reactions in the reviews.
No conflicts of interest (no one who works for a publisher or a distributor, etc.).
You need to write with a fresh, engaging, and human voice (and be fair; no "settling the score" for lost love affairs after discovering that your ex just published a book about Vivaldi).
You need to communicate and interact with readers via comments. Telling them they're "wrong" doesn't count; you have to communicate and play nice or at least find a nice way to say why their idea is wrong.
You have to be an adult and publish articles under your real name. No pen names or writing under monikers (not that I'm against it, but the line is drawn at reviews).
Here's What You Get
Everything you need to publish your reviews; a blog just like the others at Inside The Arts, super-duper technical support on how to use all of the cool blogging bells and whistles, insight on how to be a good culture blogger from yours truly (meaning, you'll benefit from my years of mistakes), and sweet coat-tail action by being part of Inside The Arts.
Absolutely no monetary compensation whatsoever. Ever. But the exposure is gangbuster crazy good.
You keep your content. It's yours, not mine; even if you decide to leave.
So if you're interested and think you can be the next big culture blogger, get in touch via Adaptistration's contact form and be ready to send along a sample of your blogging prowess in the form of a book review. Don't worry, I'm not going to steal it, it's yours, I just want to be able to see what you can do and run it past some trusted colleagues for their opinions. And feel free to ask questions etc.; if you're new to all of this, there's actually a good bit learn so look before you leap.