Wanted: Youthful, yet experienced, world class conductor who possesses commanding grasp of all traditional, modern, and pops orchestra styles whose mere artistic gravitas is capable of inspiring musicians to accept work concessions. Applicant must demonstrate previous success with charming big buck$ out of donors, corporate types, and politicians. Candidates who respect executive authority and resist temptation to challenge board decisions are encouraged to apply. Residency required.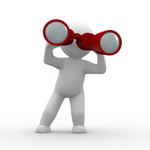 Okay, that might be a bit over the top but next Thursday, January 5, I'll be taking part in the What Executive Directors are Looking for in a Music Director panel, which is part of the Conductors Guild 2012 Annual Conference. The panel is moderated by Quad City Symphony Orchestra executive director Jeff vom Saal and fellow panelists include Stephen Burns (conductor and founder of Fulcrum Point New Music Project) and Donald Schleicher (Professor of Conducting and Music Director of the University of Illinois Orchestral program in Urbana-Champaign).
The conference runs from January 5 – 8 and takes place at Chicago's very own Roosevelt University and is presented in conjunction with the Illinois Council of Orchestras. The entire schedule is available via the conference website and you can register online at the Guild's website or download a pdf registration form. As I don't believe the sessions are being streamed online or recorded, you're going to have to attend to take part.
This will be my first Conductors Guild conference and I'm honored to have been asked to take part on the panel. I'm looking forward to discovering what sort of conference vibe unfolds and for those of you planning to attend, drop me a note and let's find some time to touch base while you're in town.
Register online for the 2012 Conductors Guild Conference