I'm not a big fan of mentioning something ad nauseam so I try keep cross promotion between the Adaptistration Network sites down to a minimum but Adaptistration Jobs has been a very popular site this week; and in recognition of these traffic spikes, it seems like a good time to give the site a bump here to make sure folks know about it and take advantage of what it has to offer.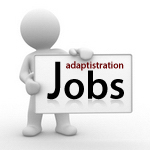 Adaptistration Jobs is the orchestra administration jobs board where employers are free to post openings and job seekers are free to browse and apply. No gimmicks, no catches; it's just my way of giving back to the business because in this economy, arts groups and arts administrators shouldn't have to pay for this sort of thing.
So I'm asking everyone to do one or more of the following options today (you'll feel warm and fuzzy for it):
In addition to dropping by the site, you can find the most recent openings in the sidebar here at the main Adaptistration blog site as well as in each weekly email summary.