Since it was launched in 2009, the Orchestra Financial Reports page has consistently been one of the most popular destinations at Adaptistration. It's simple in implementation in that it provides a direct link to each respective orchestra's GuideStar.org page where users can find a wealth of financial transparency documentation. Everything went humming along until several months ago when GuideStar started updating its permalink structure.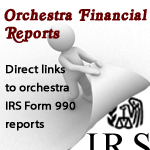 Since then a growing list of links started going bad but the good news is they've all been updated. Other improvements include pruning out groups that ceased operations over the last year and providing a form to easily report dead links right from the orchestra list.
[ilink url="https://adaptistration.com/resources/orchestra-financial-reports/"]Check out the revised list.[/ilink]
On a related note, the
2012 Orchestra Compensation Reports
may have big change in store. I can't say more than that at this point, and I apologize in advance for the tease but in one form or another, 2012
will
be different than previous years.