The 6/14/212 edition of cnews.canoe.ca reports that Sault Symphony Orchestra supporters discovered food and silent auction items purchased via credit card during a recent orchestra fundraising event appeared on their statements as a Sault Ste. Marie, Ontario adult retail store.
Apparently, the credit card terminal used during the orchestra's fundraising event was provided by an orchestra board member and owner of said adult store. The article quotes the orchestra's coordinator of projects, programs, and grants saying that the organization doesn't have the budget to purchase or rent credit card terminals and they were unaware that the charges would appear on donor statements as coming from the adult store.
"We never had a debit machine before so were really happy to have one this time around. We're too poor to be able to afford one and all the fees involved with it."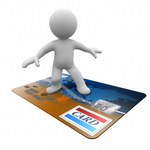 In order to find out more, I contacted Sault Symphony Orchestra General Manager Patti Gardi to see if the organization was aware of the newer mobile phone and tablet based credit card processing options available from providers like Square and PayPal; both of which provide free card swipe devices, free software, and no setup or monthly/annual account fees.
According to Gardi, the patrons they have been in touch with have understood the situation and they have yet to receive any negative feedback from those who attended the event.
We examined the service from Square in a pair of articles from 2011 (here and here) and if nothing else, the Sault Symphony Orchestra's situation is a good reminder that affordable credit card processing options do exist, but they are new enough that the field would likely benefit by getting the word out.
Resources
[ilink url="https://squareup.com"]Square[/ilink]
[ilink url="https://www.paypal.com/webapps/mpp/credit-card-reader"]PayPal Here[/ilink]
I haven't used the service from PayPal before but am curious to hear from others in the field that have. You can read about the Colorado Springs Philharmonic's experience with Square here.