I've been thinking a lot about promotional and portrait photos for both artists and arts managers. The former enjoy the lion's share of creativity and imagination while many rise to the level of being downright iconic. Arts managers, not so much. Most tend to be the obligatory headshot, sitting on a desk, in a concert hall, or standing in front of a venue. * Yawn* And don't get me started with hands on chins. Aren't we supposed to be in a creative field? So why then is it so difficult to project an image of confidence and creativity?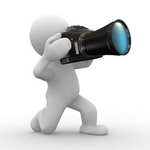 If people want to see more routine corporate photos, I'll swing by a stock photo site. Sure, the quality of images is good but they are just devoid of life. And the handful of images that step out of those conventional settings tend to be predictable as well. Plenty of paint has been wasted being splashed around set props and cheap business suits.
Yet I simply refuse to believe there isn't something better out there so to that end, I need your help. Take a moment to leave a comment and let's begin building a resource list. Focus any one more of the following:
Links to arts manager images you like.
Links to photographer websites that have great arts manager photos (or even applicable corporate exec images).
Explain why you think the image(s) are appealing.
Explain what you think would make an exciting and captivating arts manager photo/portrait.
What sort of message do you think an arts manager photo/portrait should project?
If money wasn't an object, how would you stage an arts manager photoshoot?
Ultimately, I think we can begin putting an end to dull arts manager photos.
And if you're a photographer, go right ahead and plug away for your services, but only if you promise to explain your process, philosophy, etc. Not only do we want to know "what" but we want to know "how" and "why" as well. Seize the opportunity to educate and enlighten us!
As an aside, I'm on my knees begging each and every photographer out there to please *pretty please* stop using Flash based portfolio website platforms. To put it bluntly, they suck. Sure, several years ago they were one of the best options for showcasing images but it's time to bite the bullet and launch into the brave new world of post-Flash image publication.