Back in 2005, I published a post titled What We Need Is Another Henry Ford that suggested stagnant management techniques and outdated operating models were pushing the orchestra field toward trouble. Although a popular post for its time, reader email was dismissive and in some cases, outright hostile in response to what might as well have been heresy (remember, 2005 predates comment functionality).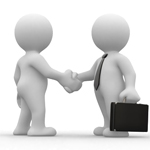 Fast forward seven years and the field is now full of new model discussions while too many organizations are suffering under the strains of insular leadership identified several years prior; if anything, the suppositions from 2005 fell short of just how much trouble was in store.
But in classic fashion, all of the new model discussions simply illustrate how good the field is at shutting the stable door after the horse has bolted instead of noticing the genuine need.
In short, now is no longer the time for Henry Ford; instead, we need another Abraham Lincoln.

In this day and age the greatest threat to the business is the rise of intense and vitriolic labor unrest. Make no mistake, there is ample blame to spread around and problems that need immediate attention, but one would be hard pressed not to recognize that these hot spots are inflamed by a deluge of conflicting personalities and ideologically motivated factions.
What should strike fear into the hearts of all who love and cherish this field is the increasing likelihood that today's disputes are producing multiple generations of retribution minded stakeholders. This self-defeating cycle is being led by a growing number of emboldened, yet unmistakably fringe, voices defining the debates.
In the end, more and more individuals can expect to get caught up in those artificial restrictions and reactionary hostilities, thereby making it increasingly difficult to realize the obvious need for a figure capable of bringing about meaningful reconciliation to these differences.