Today's title is a quote from legendary jazz artist Byard Lancaster who died in 2012 of cancer and in the wake of yet another school shooting tragedy, his quote cuts to the quick with the problems related to a society that sees culture as a luxury rather than a basic building block of becoming a happy and healthy member of society.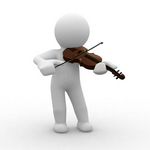 Neo Classical's author, Holly Mulcahy, wrote about this very point following a school shooting last September. In her article, she referenced Lancaster's quote as well as a letter written to the L.A. District Elementary Schools by fellow Inside The Arts author and world renowned cellist Lynn Harrell, pleading with them not to cut art and music programs.
Harrell is no stranger to the positive impact music and art possess as a coping mechanism. Two years ago, Harrell and his wife, violinist Helen Nightengale, co-founded the HEARTbeats Foundation, a charity to develop programs that use music to help children in need better cope with, and recover from, the extreme challenges of poverty and conflict.
It's been my honor to serve as a founding member of the HEARTbeats Foundation executive board and we're in the process of raising the funds needed to establish a year-round program that provides direct services to children and families of need in the form of on-site musical and artistic involvement within a therapeutic context. The services are specially designed to build lifelong skills that will help recipients express grief, improve their emotional well being, and build resilience to overcome environmental challenges.
Once funding is secured, we can set a wonderful partnership in motion with Temple University that will allow us to document our work and confidently demonstrate that these efforts have a tangible impact on the well being of individuals and entire communities.
Last week's tragedy reinforces the need to get this program up and running more than ever. Moreover, it demonstrates the need in our own country to realize that if we continue down a path where our educational culture is devoid of music and art, we can only expect more of the same.
You can help HEARTbeats reach the $60,000 fundraising goal we need to set our program in motion by making a donation from their website, heartbeatsforchildren.org, just look for the PayPal donate button at the bottom of every page. You can also learn more about the children we're working with from the blog we maintained during our last trip to Nepal.
Lastly, I hope everyone takes the time to reach out to your local, state, and national representatives to insist that music and arts have a permanent, and year-round, place in the education of each child during each and every year of their scholastic career.