Following up on yesterday's article on the impact of ethics on the current round of labor disputes, it is worthwhile to point out some recent efforts on behalf of patron stakeholders to influence the strategic decision making process within the context of a labor dispute. In St. Paul, the Save Our SPCO (St. Paul Chamber Orchestra) patron group is garnering local press attention for their efforts to influence the work stoppage.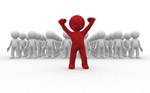 MPR News published an article on 1/8/2013 by Euan Kerr which reports Save Our SPCO delivered a petition with slightly less than 3,000 signatures calling for "good faith negotiations, selection and support of good leaders and finding a workable solution to the SPCO's financial troubles."
What's interesting in this instance is the patron group was reportedly accompanied by St. Paul City Councilmember Dave Thune who issued a very direct perspective on how he preferred the work stoppage end if a mutually agreeable solution can't be found.
"I keep hoping that they will be reasonable in their negotiations and I certainly hope that if they can't do that then they'll just replace management," Thune said.
Thune apparently isn't the only local Minnesota politician interested in influencing what appears to be a rash of labor disputes and work stoppages. MinnPost.com published an article on 1/7/2013 by Joe Kimball which reports Minnesota State Representative Joe Atkins is pushing for a hearing in the Commerce and Consumer Protection Committee. Atkins' goal is to reportedly determine whether the state should consider new rules on work stoppages for organizations that accept public funding.
"Whether it's the NHL, NFL, the Minnesota Orchestra, or the St. Paul Chamber Orchestra, lockouts have been happening more and more frequently with groups who received taxpayer dollars, despite promises by those groups of economic activity and jobs. We have an obligation to taxpayers to find ways to minimize the economic impact of these lockouts in the future."
What do you think, should politicians routinely take a proactive role in orchestra labor disputes? Should nonprofit performing arts organization stakeholders be held accountable in some form or another for the impact on the local economy during work stoppages (both strikes and lockouts)?