After suffering a brain hemorrhage during his performance of the Strauss Oboe Concerto, San Francisco Symphony Orchestra Principal Oboist William Bennett passed away. Bennett served as the orchestra's Principal Oboist for 26 years but was a member of the orchestra 34 years.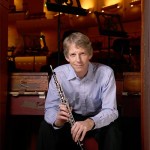 The orchestra released a statement on 2/28/2013 and there have been numerous articles recounting his career, accomplishments, and consummate musicianship.
H/T to Brian Wise at WQXR for posting this wonderful clip of Bennett performing the oboe solo from Tchaikovsky's Symphony No. 4.