Losing two minutes in the span of one week isn't an achievement to be proud of but the Minnesota Orchestra Association (MOA) moves another minute closer to doomsday following the official decision to terminate what was left of the 2012/13 subscription season. Incidentally, doomsday is marked by organizational collapse and subsequent liquidation bankruptcy.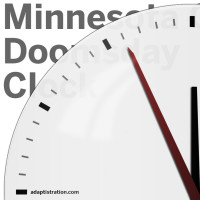 In a press statement published the morning of 5/8/2013, the MOA cancelled five concert events in May, two in June and one in July. And just in case you weren't keeping score, the statement includes a note that the new cancellations were addition to the other cancellations from 10/18/2012-5/12/2013.
As we examined on May 7, 2013 there doesn't appear to be any changes in positions coming any time soon, so the next big stretch of hurry up and wait comes in the form of the freshly minted "summer line-up" which features a limited number of general admission cancellations.
Once July is a memory, expect things to get dicey.