Just in case you had any hope that the Minnesota Orchestra Association (MOA) would reach an eleventh hour agreement with its musicians to rescue the 2013/14 season, retain music director Osmo Vanska, and the upcoming Carnegie Hall performance, they made it clear to Graydon Royce in the 9/3/2013 edition of the Star-Tribune that all of those items and more are worth sacrificing in order to achieve their goals for a new collective bargaining agreement.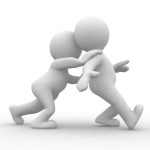 The MOA's trifecta of board and executive leadership, negotiation chairman Richard Davis, board chairman Jon Campbell, and President & CEO Michael Henson, reportedly clarified their line in the sand during a meeting with the Star Tribune's editorial board.
The newest talking points include an analysis by AKA | Strategy that casts a bleak forecast on fundraising potential and endorses a strategy that the organization can, and should, cut its way to success (download the report).
The Orchestra has prepared a thoughtful and analytically reasonable Strategic Business Plan that seeks to promptly balance its operating budget and achieve financial equilibrium and thus reverse a recent pattern of growing and unsustainable annual operating deficits funded through ever larger exceptional draws from its endowment.

[…]

Having exhausted other courses of action, the Orchestra's Strategic Business Plan calls for a substantial decrease in musicians' expense to balance its budget. While this decrease may appear to be draconian in size and timing, the Orchestra has no other recourse but to bring that cost element in line and construct a smaller operating budget that can be supported by a realistic view of fundraising and earned revenue.
Musicians, none of which were interviewed by AKA | Strategy, assert that the report is the latest tactic in an effort to avoid bargaining in good faith as well as work through solutions presented by the mutually agreed upon mediator, distinguished diplomat George Mitchell.
For those who may not recall, earlier in 2013 both parties in the dispute agreed to pursue an independent analysis of the institution but that effort quickly fell apart when the MOA refused to include board governance and executive oversight in the review. Instead, the MOA rejected the notion of a mutually agreeable firm and hired AKA | Strategy to conduct an analysis within their parameters and without broader stakeholder input.
For now, it may be difficult to see much potential for an amicable resolution and by this time next week, it shouldn't come as a surprise if Vanska is the Minnesota Orchestra's ex-music director.