The original idea for today was to officially launch the Orchestra 990 Database Project Kickstarter campaign but thanks to the astoundingly slow process at Amazon Payments, the launch cycle has been pushed back a bit. We're looking at Monday, 2/9/14 as the new launch date.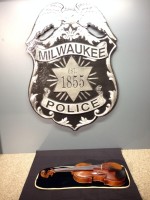 Fortunately, the Lipinski Strad ordeal ended the week on a high note with police arresting three suspects and recovering the violin. At the time this article was written, there was no word on whether or not the police managed to recover the bows were stolen along with the violin.
The Milwaukee Police Department released a statement (reprinted in its entirety below), which contains additional details about suspects Universal Knowledge Allah and Salah Ibin Jones; the third suspect has yet to be named. Details surrounding the specific charges against the suspects are in development with particulars expected to be released over the weekend.
The Milwaukee Police conducted a news conference, which they subsequently made available on YouTube.
Milwaukee Police Recover Stolen Violin

February 6th, 2014

The Milwaukee Police Department is pleased and proud to announce that the Lipinski Stradivarius violin stolen during a robbery on January 27 has been safely recovered. Milwaukee Police Chief Edward Flynn made the announcement during a news conference on Thursday, February 6. Over the past week, investigators from the Department have followed up on many tips received from the community, resulting in the arrests of three individuals. Chief Flynn said, "On the evening of February 5, based on information provided by one of the suspects, Milwaukee Police successfully located and recovered the stolen violin."

On January 27, two suspects used an electronic control device to rob Milwaukee Symphony Orchestra concertmaster Frank Almond of his 1715 Lipinksi Stradivarius after a concert at Wisconsin Lutheran College. The Milwaukee Police Department immediately initiated an investigation, including contacting the FBI's Art Crimes Team. Taser International provided valuable information that, after assistance from our FBI partners, led our investigators to one of our prime suspects, 36-year-old Universal Knowledge Allah of Milwaukee. An independent anonymous tip received several days into the investigation identified a second primary suspect, 41-year-old Salah Ibin Jones of Milwaukee.

Milwaukee Police conducted an investigation and surveillance on both suspects, generating information that led to five search warrants and the arrest of three suspects. The interviews of the suspects led the Department to an address on E. Smith Street in Milwaukee where an additional search warrant was executed. The violin was recovered by the Department inside a suitcase hidden in an attic.

The Milwaukee Police Department wants to specifically identify several members who deserve recognition for their role in this investigation, including FBI Agents Tim Biswurm and Dave Bass, along with Milwaukee Police Officer Will Schroeder; Detective Eric Donaldson; Detective Billy Ball; and Detective Gust Petropoulous.

– See more at: http://www.milwaukeepolicenews.com/category/source/page/1#sthash.9E09uHJG.dpuf

###