The Chicago Symphony Orchestra (CSO) released a statement late last night announcing the search committee tasked with finding a replacement for outgoing President Deborah F. Rutter has secured a candidate months ahead of schedule. Beginning Monday, September 1, 2014, outgoing Minnesota Orchestra Association President & CEO Michael Henson will replace Deborh F. Rutter as the CSO's new President & General Director. In a fortuitous turn of events, I ran into the search committee chair on an L train shortly after the statement was released and we chatted about the decision to hire such a controversial executive in addition to the new executive title.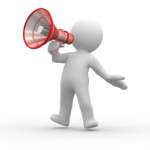 "Well, a number of us on the committee have made summer plans that are a real hassle to change and this search schedule was really eating into that time; you know, losing rental deposits on the vacation homes and all, so we decided to prioritize 'availability' as the most important quality among our candidates," said the search committee chair. "As it turns out, Debbi's officially out of here on August 31 and Mike's contract in Minnesota was up on August 31. It looked like a no-brainer to most of us so I made a few calls and badda-bing, badda-boom, Mike Starts September 1."
When asked for a comment, the senior musician representative on the search committee promptly said the decision was entirely news to her.
"At first I thought this was some sort of surreal April Fool's Day prank but it turns out they are serious about this," she said. "The musician representatives on the committee were kept completely in the dark but they've put ink to paper so I guess we're stuck with him."
The musician spokesperson then excused herself after referencing something about calling in favors from friends in Los Angeles.
As for the new title, the search committee chair confirmed that it was Henson's only sticking point before accepting the job.
"Mike said he didn't want us to keep moving the Finnish line the same way they did in Minnesota so he insisted on adding General Director to his title, which means Maestro Ricci now reports to him in the official organization chart," said the committee chair. "Sure, it seemed like an odd request to us since Debbi and Maestro Ricci always had such a productive peer relationship but you know what they say, 'compromise is cheaper than a lawyer.' Granted, we haven't broken the news to the Maestro yet but we figured he would be fine with it; after all, Mike said that he has loved music since he was a kid so what could go wrong?"
At that point the chair got off the train at the 95th/Dan Ryan station and I called Maestro Muti to ask for a comment about the new reporting structure with Henson as his superior at which point he begged my pardon and excused himself saying he needed to call his lawyer about a pressing matter.