The live streaming provider wars have begun and the struggle to gain market dominance between Twitter owned Periscope and indie hit Meerkat is well under way. Playing out under all of this drama is the latest step in arts marketer evolution: just what the hell are we supposed to do with these platforms anyway?!?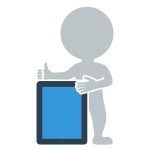 Tech journals are already profiling the benefits of tapping into the personal live streaming environment but not unlike other disconnects between mainstream commercial marketing and niche based arts marketing, the angle needed to turn personal live streaming into selling more tickets and improving exposure may not be monkey-see, monkey-do simple.
ArtsHacker and consummate arts-tech man about town David J Loehr published an article on 4/10/2015 that examines both Meerkat and Periscope in extraordinary detail and one of the first items he covers is how live, instant streaming video isn't really designed to capture the 30,000 foot view experience of a live event. So if you're thinking about using it for that purpose, you can pretty much assign that to backburner purgatory (not to mention the related headaches involved with making sure you abide by contractual broadcast regulations).
Having said that, Loehr has some excellent pointers via his first-hand experience with both apps and the really good news here is those of you who work eyeballs deep in audience engagement are going to get quite a bit out of the post. Even skimmers will be satisfied thanks to the tidy bullet point list of learnables at the very end.
In the meantime, I'm curious to know if anyone out there is already using either app. If so, how and what have you learned to-date? Personally, I'm very curious to see what can be done with this outside the hallowed halls of arts administration and in the hands of a super fan like Chicago's very own Jonathan Becker. Stay tuned…
Read Much Ado About Streaming @ ArtsHacker.com