Boston Symphony Orchestra Fourth/Utility trumpet Michael Martin probably doesn't want to see his brother, New York Philharmonic Principal trumpet Christopher Martin, get killed by way of an underfunded Kickstarter campaign for a new trumpet concerto, but you never know.
Michael posted an article about the concerto project at PlayWriteMusic.com that included a cartoon by Philadelphia Orchestra Associate Principal trumpet, Jeff Curnow, the latter of which adopts the Everybody shut up or the cute little bunny DIES!! approach to engagement.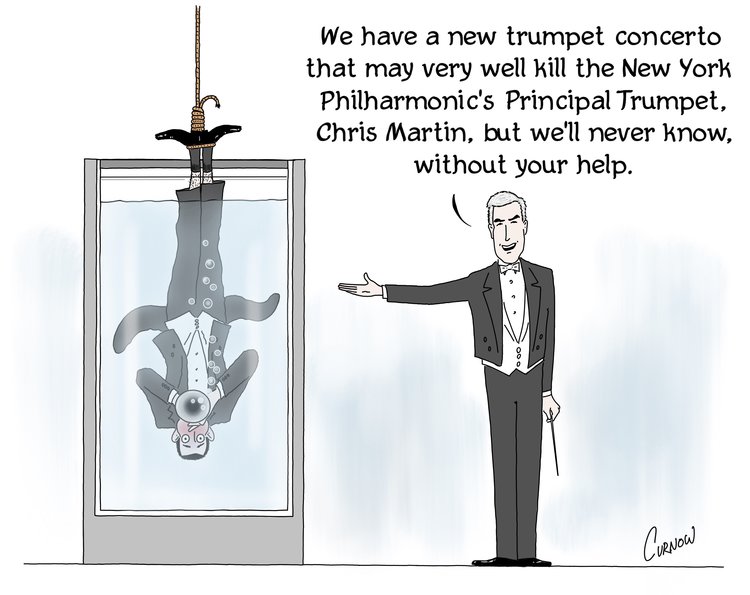 Although the cartoon was an 11th hour order, Curnow said the idea came together after  a single text.
"The solo is apparently an 11 on a difficulty scale of 1 to 10, I think it requires five different trumpets," said Curnow. "Mike [Martin] thought the recording project kick-starter needed a boost so he called me at 5 PM on Friday pleading for a cartoon by the end of the evening. A rush job but when Chris texted to tell me that the depiction of a Houdini style, death defying feat was pretty much the way it felt to play the piece, I knew I'd nailed it."
I reached out to Michael Martin to learn more about his insights into the new music project as a whole and to dig deeper into his motivation for his article.
"Times are changing. In my seven years at the BSO and my last twenty growing up and continuing to be involved in the music education universe, I've noticed growth, not decline," Said Michael Martin. "Concert halls are full more often, bands are getting better, standards are getting higher. Twenty years ago if you'd asked me what the state of classical music, pageantry, or arts education was going to be in 2050, I may have given an indecisive or even gloomy outlook (I mean, I also would have been 10, so my answer would have also been contingent on whether or not I'd had McDonald's that day). But ask me that question today, and I love where we're headed. Projects like this are what continue that momentum, and the success of the grassroots funding model only makes it easier. Is there still work to be done to continue to grow the arts and its exposure? Absolutely. But it's projects and events like these that energize the community to continue that push. I'm ecstatic to have been a small part of what's going to be a huge watermark in the world of new music for winds."
The good news is Christopher Martin will get to see another day thanks to the Kickstarter exceeding its goal a mere three days before its deadline (don't get too comfortable Chris).
The Kickstarter project itself is a great example for how to go about a classical music album project.
Everything from the description content, to supporting videos is well done. They even managed to come up with some meaningful pledge rewards beyond he ubiquitous singed CD. The only thing really missing are stretch goals (which could change given there are two days left and they are now fully funded).
I reached out to Christopher Martin for some of his feedback on the project's success and he echoed those sentiments.
"The successful grassroots investment in this recording challenges both notions that audiences are disinterested in new music and that performing organizations are out of touch," said Christopher Martin. "The recording feels like a true collaboration between all parties: composer, performers, audience and organization."
The entire project, Kickstarter campaign, Martin's article, and Curnow's cartoon, is a handy template for any individual or organization considering a similar new music funding campaign.